Video reveals officer pushed teen with foot
All charges dropped against Craig and her teenage daughters
CLAUDIA LAUER | 2/6/2017, 10:27 a.m. | Updated on 2/7/2017, 3:30 p.m.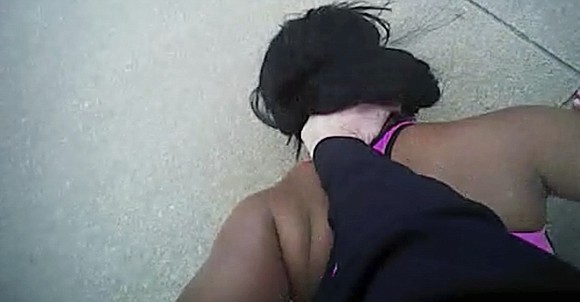 Martin's attorney, Terry Daffron, said she would not comment "on the distorted portrayal of the facts" until she receives a copy of the investigation report.
Valle, the police spokeswoman, said the department does not release complaints against officers that do not result in a suspension or firing.
Fitzgerald's report about the December incident said Martin violated department policy by failing to thoroughly investigate, neglecting his duty, and being discourteous to the public and conduct prejudicial to good order.
The video also shows Martin's conversation with Craig and one of her daughters after he places them in the back of a patrol vehicle.
"Here's the deal. When somebody's under arrest, if anybody interferes, they go to jail too," Martin told them.
"Well, I don't know this. I'm 15 years old," Craig's daughter replied.
Craig responded, "He got mad at me for saying what I said. That's why he did it. But it's all recorded, it's all recorded."
Police said Thursday that Martin would not return to the same neighborhood where the incident occurred. That followed comments Fitzgerald made earlier this month saying Martin would return to the same community "to repair relationships."
"The Police Department recognizes we must work to repair the fractured relationships in our community. We are committed to ensuring all Fort Worth Police officers live up to restoring the trust you have lost in our department," the statement said.