Spotlighting The Cliff: Saluting a few of Oak Cliff's notable contributors
MIKE McGEE | 2/6/2017, 10:30 a.m.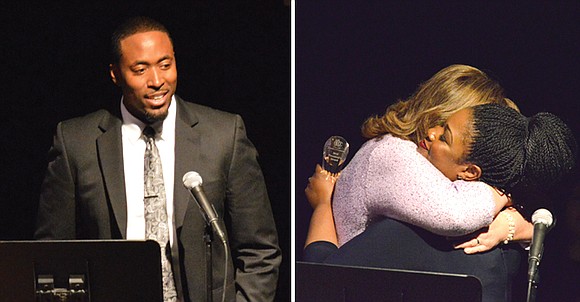 The Dallas Examiner
A celebration of local success and engagement to "recognize the best Oak Cliff businesses, organizations and individuals in 2016 for their achievements, community contributions and milestones…" was held Jan. 26 at The Kessler Theater on West Davis Street. State Rep. Rafael Anchia, District 103, served as master of ceremonies for the yearly Spotlighting the Cliff awards presented by the Oak Cliff Chamber of Commerce.
The chamber recognized Taylor Toynes, the winner of the 2016 Community Advocate of the Year, for his service to the children of the area.
"Taylor is a young man with a vision and a passion for our youth in Oak Cliff, so much so he founded a nonprofit, For Oak Cliff," said presenter Edwin Cabaniss, owner of The Kessler Theater. "His back to school events have supplied thousands of children with backpacks and school supplies."
While Toynes appeared appreciative of the recognition, he informed the audience that the attention of the win should not be just focused on him.
"Advocacy is something that I've done for a while. I'm a third generation individual who lived in Oak Cliff. My whole family is from here, where I was born and raised," he said. "Thank you guys for giving this opportunity but I just want to speak for advocacy. It's something that's very important that we all speak out and we talk about those less fortunate and those who don't have everything that they need to get done what's necessary for their everyday lives.
"We all know that Dallas is a tale of two cities and so is Oak Cliff, and right now, more than ever, is a time that we come together and we work as a team. Community is a very special thing to me. I believe that if we come together as one we'll be able to do a lot more and advocate for a lot more people."
He spoke on how his grandmother came from North Oak Cliff and how the experiences that she lived through helped direct his drive to aid others.
"She grew up in The Bottoms, in the 10th Street historic district, which is a Freedmans Town, and the stories that she told me were mind-blowing and life changing. Those are things I hold true and dear to my heart," Toynes said.
"So I just want to continue to serve out the purpose of those who came before me, and those who come after me, like my daughter and my students, because those are the people who inspire me to do this work – and it's all about someone else. It's the most selfless work that I could possibly do," he added.
The Commemorative Air Force was the winner of the 2016 New Business/Development of the Year. The CAF, based out of Dallas Executive Airport, acts as an education and preservation museum for original combat aircraft in flying condition. Founded in 1957, the CAF only recently moved from Midland to the Metroplex, staging its first airshow at its new home base in October of last year.