Spotlighting The Cliff: Saluting a few of Oak Cliff's notable contributors
MIKE McGEE | 2/6/2017, 10:30 a.m.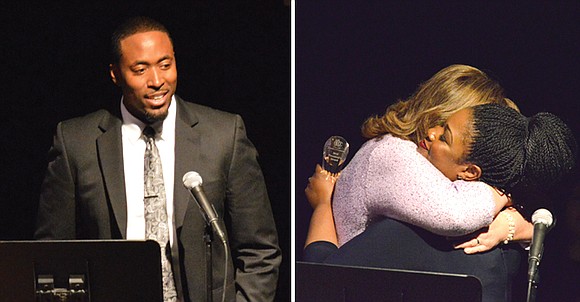 As Shirley Heitzman, director of support initiatives and community engagement of Faith Family Academy, introduced the CAF's nomination, she mentioned the organization wanted to promote their efforts with a specific quote, saying, "A generation which ignores history has no past and no future," to which she added, "Which seems particularly appropriate right now."
When Adam Smith, executive vice president of strategic development at the CAF, stepped to the stage, he reminded those in attendance of the role that his group played in the community.
"What's taken shape with the Commemorative Air Force is a vision for a world-class visitor attraction that we want to build at the airport," Smith said.
He went on to disclose that, while the attendance for last year's air show was predicted to be about 8,000 people, 19,000 was the final tally.
"Next month we'll have 3,000 school kids coming through our hangar to learn about the history of the Tuskegee Airmen. This is what we're about," Smith said. "We're the world's largest flying museum. We fly our planes, we create excitement, we educate young people about the past so that they can apply the lessons and the accomplishments of the greatest generation to the challenges and problems that our society faces today."
Another major honor of the evening was the 2016 Event of the Year Award. Anchia emphasized the concept behind the category, explaining, "The nominees have all created and executed events in the Oak Cliff area that focus on our community and bring visitors to a special oasis across the river in Dallas."
The Concord Church took the prize for the Event award for their July program Together We Stand.
"It was an urgent call to prayer at the heels of a senseless and horrible murder of five police offers who were serving and protecting a peaceful Black Lives Matter rally in downtown Dallas," presenter Jorge Baldor of The Latino Center for Leadership Development remarked. "It was a coming together of people looking for something to hold on to after the staggering effects of the recent violence, not only in our nation but here in our home.
"This service included pastors of all races, leading the community in prayer, scripture reading and reflection," he said.
Other awards presented during the evening included:
• Business of the Year: Jefferson Tower
• Public Servant of the Year: Judge Juan Jasso
• Chairman's Award: Cienda Partners – Barry Hancock & Phil Weiss
• President's Award: Winnie Neal – Methodist Dallas Hospital
• Chamber Staff Award: Rhonda Hutchinson – Techgizmo
The award program will be back with new nominees next year. More information on the the role of the Chamber within the community can be found online at http://www.oakcliff chamber.org.