Jenkins and Chazelle to make Oscars history as first Black/youngest 'best director'
JAKE COYLE | 2/13/2017, 10:54 p.m.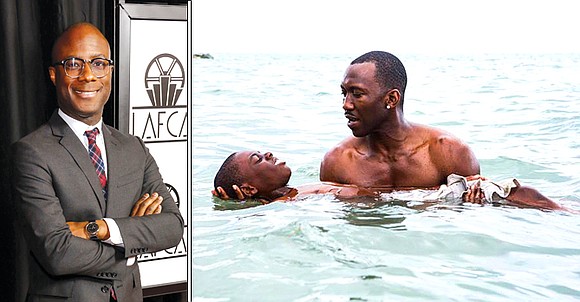 NEW YORK (AP) – At the forefront of this year's Oscar race are two filmmakers in their 30s with seemingly limitless careers ahead of them: Barry Jenkins, the 37-year-old writer-director of Moonlight, and Damien Chazelle, the 32-year-old wunderkind behind La La Land. The combined nominations of their films amount to 22, even while their ages add up to less than that of Martin Scorsese or Steven Spielberg.
It's rare for young directors to rise to such heights. Should Jenkins pull off a win for best director, he'd be the youngest since Sam Mendes won in 2000 for American Beauty, and, more significantly, he'd be the first African American filmmaker to win the award. If Chazelle were to win, he'd be the youngest winner ever. History seems sure to be made, one way or the other.
On an awards circuit that has brought them together repeatedly, Jenkins and Chazelle [whose screenplays are also nominated] have expressed mutual respect and admiration for each other. If they are Academy Awards rivals, they don't act like it.
"It's nice to have somebody who's sort of on your side of the age bracket to look across the room and be like, 'This is crazy, right?'" said Jenkins. "Yeah, this is crazy."
They've crossed paths before. Both released their first films – Medicine for Melancholy for Jenkins and Guy and Madeline on a Park Bench for Chazelle – around the same time: late 2008, early 2009. Jenkins' initial plans for his sophomore film stalled. Chazelle, who wanted La La Land to be his second film, was forced to pivot instead with Whiplash, which became his Oscar-nominated breakthrough.
"I've admired Barry Jenkins from afar since Medicine for Melancholy," Chazelle said. "I definitely feel the future of cinema is in good hands with him. I just think he's one of the finest filmmakers on the planet."
They are very different filmmakers. Jenkins, whose film bears echoes of his Miami upbringing, has a rare gift for lyricism and startling intimacy. Chazelle, the Harvard-educated son of college professors and a former jazz drummer, makes movies with a bright musicality that cloaks darker questions of art and ambition.
Yet both are clearly auteur filmmakers expressing a personal vision with a deep awareness of their place in cinema history. [Just watch Jenkins' recent kid-in-a-candy-store moment at the Criterion Collection offices.] Cameron Bailey, artistic director of the Toronto International Film Festival, has programmed both of Jenkins' films and two of Chazelle's. That each has channeled movie history while finding their own voice, he said, is proof of a "healthy future ahead for movies."
"The thing I find most heartening is that they're both cinephiles," Bailey said. "They've watched a lot of movies, they grew up immersed in movies, and it shows. You can see the classic musicals – and not just Hollywood musicals but French musicals and films from all over the world – in La La Land. And you can see in Moonlight the influence, which Barry's talked about, of Claire Denis, of Hou Hsiao-hsien, of Wong Kar-wai, of a lot of European and Asian cinema."