Black banks, business groups making history with economic justice
HAZEL TRICE EDNEY | 2/19/2017, 5:31 a.m.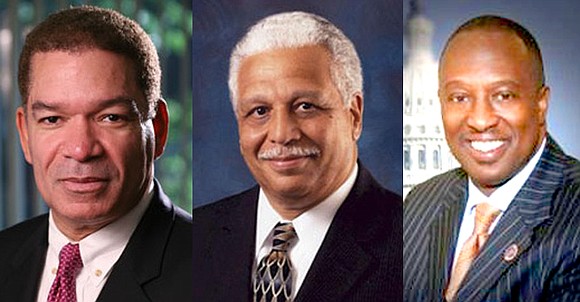 TriceEdneyWire.com
The number one reason that Black-owned businesses fail, simply put, is lack of money and resources.
That's why – as America commemorates Black History Month – the U.S. Black Chamber Inc., an association of more than 122 Black chambers and 265,000 business owners, is escalating publicity on its partnership with historic, Black-owned Liberty Bank. Both entities are determined to break economic barriers that have historically oppressed Black people.
"Our history is full of trailblazers and pioneers that fought to build our community from the ground up. We owe it to them to sustain our community," said Ron Busby, USBC president and CEO.
"The top three concerns facing Black entrepreneurs are access to capital, access to capital, and access to capital. As the voice of Black business owners, our focus during Black History Month is to highlight the importance of economic sustainability in the Black community and the dire lack of funding facing Black businesses."
The USBC has launched what it calls a "buy-Black, bank-Black initiative" as a solution to spur economic growth in the Black community.
"Bank-Black is the single most powerful economic movement currently taking place in Black America," Busby said. "Now is the time to utilize our Black banks as more than a place to hold our money, but as a resource for securing capital."
As a part of this initiative, a USBC Bank-Black Credit Card is being offered in partnership with New Orleans-based Liberty Bank, a historic institution and one of the leading banks of the National Bankers Association.
"Through our relationship with Liberty Bank, we can now provide access of up to $10,000 with an unsecured line of credit at an annual percentage rate of 9.96 percent and with a credit score as low as 570. We think this is game-changing in that it now provides the needed resources for African Americans to be able to move our communities to sustainability," Busby explained.
Black businesses have long suffered oppressive redlining by major national banks. Even the Small Business Administration has barely reached 3 percent in its loans to Black-owned businesses. The U.S. Census Bureau reported in 2014 that more than half of Black business owners do not apply for business loans when they need it because of fear of being turned down.
That "fear is justified," as "only 47 percent of Black business owners get the full amount they requested versus 76 percent of Whites," according to a report by NewsOne Now.
The Wall Street Journal reported last year that national banks tilting toward major mortgages "means fewer loans for Blacks, Hispanics." This leaves Black-owned community banks to do what they have historically done – serve the underserved.
Despite the proven historic wrongs of government and corporate discrimination, NBA President Michael Grant says Black business owners must now find ways to rescue themselves.
"When it comes to the burden of proof of who is ultimately responsible for the economic survival of the Black community in America, I'm arguing that the burden of proof has shifted to the Black community itself," Grant stated. "It does not in any way remove the responsibility of government to be fair. It doesn't remove the responsibility of corporate America to be fair and to treat Black consumers and their businesses with equity. But the burden of proof of who is ultimately going to save the Black community, I am arguing that this must be the Black community.