Black banks, business groups making history with economic justice
HAZEL TRICE EDNEY | 2/19/2017, 5:31 a.m.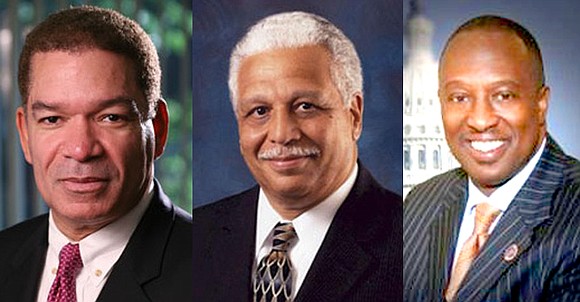 "Even if it means our advocacy, supporting our own businesses, going to our leadership asking, 'What are your plans for the economic survival of Black people in this country?' the burden of proof has shifted to us. And this credit card, in no small way, says that we are accepting the burden of proof. We're saying, 'Okay, if our businesses are having a difficult time in majority banks getting access to credit, what can the Black banks do about it? How can we accept that burden? How can we step up and revive access to credit?' That's what this has done."
Despite negative stereotypes, Grant points to the education and professionalism of African Americans in business and in banking as what enables them to create their own economic strategies for survival.
For example, Liberty Bank President Alden J. McDonald Jr. is the longest tenured African American financial executive in the country. His nearly 45 years of experience in the banking industry was first established with his presidency of Liberty, which started with the bank's founding in 1972. The bank's website credits his "strategic vision and hard work" for the success of the bank. Assets have grown from $2 million in 1972 to more than $600 million currently.
"Our relationship and our partnership with the US Black Chamber is a partnership that will make certain that available credit is based on a level playing field," McDonald stated. "And one of the reasons why we feel the relationship with Liberty Bank is important is because Liberty Bank is very sensitive to the credit challenges of the community. And therefore, our underwriting standards are taken into consideration for the small business person."
Grant stressed that Black-owned banks can strengthen the economy of the Black community while operating within a stringent regulatory environment.
"Our banks, like any bank, have to adhere to the regulators. We can't get around that. What we can do is when you come to our banks, we can talk with you, we can take a little extra time with you. We can tell you where the flaws are in your business plan, we can tell you that if you don't qualify for credit, then here are the things that you can do so that you can become credit worthy. But, the bottom line is that the burden of proof has shifted to the Black community and its leaders and its organizations," he said.
Ultimately, money in Black-owned banks is a win for everyone, Busby concluded.
"We want African Americans to have money in Black banks because we feel that Black banks historically provided the resources in Black communities. But, we're taking it a step further, understanding that banks truly make the largest profits by providing loans and receiving fees," he said.
"And so we feel like this is a win, win, win. It's a win for the Black bank, which has additional capital to lend. It's a win for the individuals because they can now get capital at an affordable rate. And it's a win for the community because the banks can now make the loans that homeowners and business owners need. The USBC takes great pride in commemorating Black History Month with a tribute that honors Black history and anticipates an even greater Black future."