George Foreman to be inducted into TBSHF
Special to The Dallas Examiner | 2/19/2017, 5:55 a.m.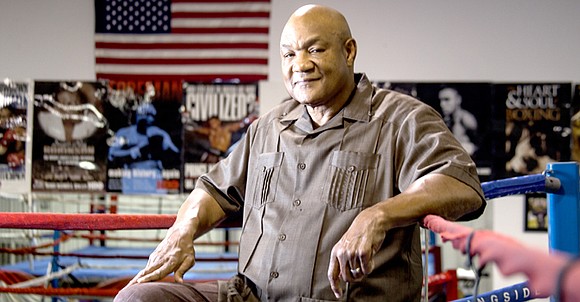 Special to The Dallas Examiner
The Texas Black Sports Hall of Fame was founded in 1996 by Dr. Harry Robinson in an effort to honor the achievements by outstanding African American athletes and coaches in Texas.
Robinson – who also founded the African American Museum, a Smithsonian Institution affiliate – has spent a lifetime dedicated to the preservation and recognition of African American accomplishments and milestones.
Concerned that the contributions of many Black athletes had been overlooked, Robinson gathered the support of sports fans, community groups and local foundations and businesses to honor notable Black men and women of the sports world.
From the Negro Leagues to the recently retired, some inductees include: Bill Blair Jr., John "Mule" Miles, Tony Dorsett, Jack Johnson, Earl Campbell, Jethro Pugh, Cynthia Cooper-Day, Greg Ellis, Mark Aguirre and many more.
Boxing Inductee: George Foreman
George Foreman slugged his way to being regarded as among the most powerful and punishing boxers the 20th Century had ever witnessed, with two world heavyweight boxing championships and an Olympic gold medal to verify that tag. A second boxing career in his 40s showed that he even knocked out age for a short period of time.
The Marshall, Texas native battled in arguably the deepest and greatest era in heavyweight boxing lore. The names are legendary: Ali, Frazier, Norton, Holmes, Holyfield, Tyson, Quarry, Chuvalo, Liston, Patterson …
Foreman more than demonstrated that he belonged in that iconic club and for a time stood above them all, documenting a pro record of 76 wins, only 5 defeats, with 68 knockouts (an 84 percent knockout proficiency).
His marquee moment came on Jan. 22, 1973, in Kingston, Jamaica. In spite of a 37-0 record (34 KO), he was a 3:1 underdog to defending heavyweight titleholder and deadly left hook sensation Joe Frazier, who came into the ring 29-0, 25 knockouts. Behind the famous bellowed call by broadcaster Howard Cosell of "Down goes Frazier!" Foreman put Frazier on the canvas not just once but six times inside of two rounds. Famed referee Arthur Mecante called the fight and Foreman possessed the undisputed world heavyweight belt.
"Big George" defended his title twice, including a two-round TKO of Ken Norton, before facing Muhammad Ali at the "Rumble in the Jungle," in Kinshasa, Zaire (now the Republic of Congo) in October 1974. Foreman, however, fell for Ali's "rope-a-dope" style and was knocked out in the eigth round.
Foreman won the next five fights, but failed to attain a rematch with Ali. When he lost in another upset to Jimmy Young, he announced his retirement.
But even his "Arms Were Too Short to Box With God."
According to his accounts, he fell ill in the dressing room after the Young loss, feeling he was near death and called out for God. He recovered and eventually became a born-again Christian and an ordained minister during his 10-year boxing sabbatical. He decided to make a comeback in 1987, this time "fighting for God." It would be the most incredible comeback of perhaps any boxer in history.