George Foreman to be inducted into TBSHF
Special to The Dallas Examiner | 2/19/2017, 5:55 a.m.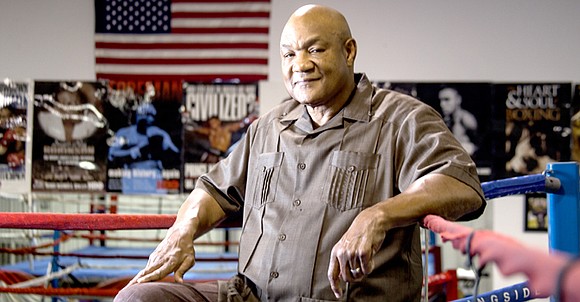 The "Punching Preacher" began his comeback in March 1987, at the age of 38, when almost all other boxers had far retired for good. Incredibly, he kept winning and kept going, winning 14 consecutive bouts. He then faced Evander Holyfield in April 1991 for the WBA, WBC and IBF World titles. Although losing in a 12-round decision, he stunned and impressed the boxing world as to how a 42-year old gave such a tough fight to a prime 28-year old Holyfield.
Foreman won three out of his next four fights, then faced WBA and IBF champion Michael Moorer on Nov. 4, 1994. After knocking out Moorer in the 10th round, he went down on his knees at his corner and prayed. At 45 years, 10 months, he became the oldest heavyweight champion in history, and the second oldest in any weight class (behind Bernard Hopkins).
After winning four more fights, he lost his titles to Shannon Briggs (12-round decision) and retired for good, less than two months away from his 49th birthday.
Foreman overcame a troubled childhood out of Marshall, Texas' Fifth Ward, dropped out of school, joined the Job Corps and moved to California, where he discovered boxing. He compiled a 16-4 amateur record, won the national AAU championship and qualified for the 1968 Olympic boxing team in Mexico City.
He reached the gold medal fight and pummeled Jonas Cepulis of the Soviet Union, forcing the referee to stop the fight in the 2nd round. After his victory, Foreman courageously expressed his American patriotism when he stepped back into the ring and acknowledged audiences on all sides with a small American flag.
Now a respected minister, entrepreneur, in-demand boxing commentator, motivational speaker and spokesperson for several products, George Foreman inspires the world how to fight and win both in the ring and in life.
Other 2017 inductees are:
Coaching: C.H. Collins (Posthumous)
The late Curtis H. Collins Sr. is proudly remembered as a coaching and administrative legend by virtually the entire Denton Independent School District community. The impact he made on so many lives – black and white – has been greatly recognized.
Collins moved to Denton in 1954 and became the football, basketball and track coach for the then-all Black Old Fred Moore High School Dragons. Over a 13-year period, his teams won consistently, taking home seven district championships and going to four state playoffs.
Denton has since opened up a new Fred Moore High School.
In 1967, Collins was credited with helping Fred Moore High School make a delicate transition when it integrated into Denton High School. For helping make the integration successful, Collins was awarded the appointment of Dean of Men at Denton High, while continuing his coaching.
Two of Collins' players – Carl Garrett and Don Woods – went on to enjoy successful careers with the NFL. Garrett won Rookie of the Year and AFL All-Star honors with the Boston Patriots in 1969. Woods won Rookie of the Year with the San Diego Chargers in 1974.