Trump's travel ban betrays American values
MARC H. MORIAL | 2/19/2017, 5:58 a.m.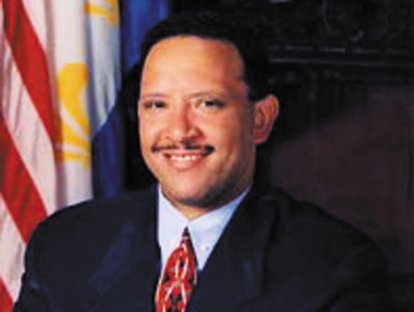 National Urban League
"Like many immigrants, we came to this country empty-handed. We believed in American democracy – that with hard work and the goodness of this country, we could share in and contribute to its blessings. We were blessed to raise our three sons in a nation where they were free to be themselves and follow their dreams. Our son, Humayun, had dreams of being a military lawyer. But he put those dreams aside the day he sacrificed his life to save his fellow soldiers … If it was up to Donald Trump, he never would have been in America." – Khizr Khan, father of U.S. Army captain killed in Iraq, Democratic National Convention Address, July 28, 2016
Ninth Circuit Court's refusal to reinstate headed to Supreme Court
As a Republican candidate running for the nation's highest office, Donald Trump promised an enthusiastic crowd of supporters that in the wake of the San Bernardino, California, attack – a mass shooting perpetrated by an American citizen of Pakistani descent and his wife, a Pakistani national and lawful permanent resident – he would, as president, call for "a total and complete shutdown of Muslims entering the United States until our country's representatives can figure out what the hell is going on." It took only a week into his new administration for now-President Trump to make good on his campaign trail promise. With the easy stroke of a pen, and a messy rollout, President Trump summarily stopped an entire class of people from entering the country, throwing airports into chaos and confusion, sparking spontaneous protests, delaying or halting family reunions and disrupting the lives of lawful immigrants both within and outside our nation's borders.
The Protecting the Nation From Foreign Terrorist Entry to the United States executive order, along with two previous orders, triggered a blanket, targeted 90-day ban on all travelers from seven predominately Muslim countries – Iran, Iraq, Libya, Somalia, Sudan, Syria and Yemen – all deemed terrorist hotbeds. The entry of any and all refugees was suspended for 120 days, including an indefinite ban on refugees from war-torn Syria, as Trump's administration established "new vetting measures to keep radical Islamic terrorists out of the United States of America." The Ninth Circuit Court of Appeals in San Francisco has refused to reinstate the ban, key parts of which were suspended by a district court judge.
The administration has made clear its intention to appeal to the Supreme Court.
In the court of law, what is at stake here is defining what, if any, checks can be placed on the president's authority to oversee and determine federal immigration policy. In the court of popular opinion, however, what is at stake here is how we define ourselves as a nation and how we will continue to define ourselves in the future and in the face of legitimate national security concerns.
Fear, fiction, alternative facts, reality and discrimination have no place in this critical discussion where lives hang in the balance on both sides of the debate.