Giddings discusses bills to help ex-offenders re-enter society
MIKE McGEE | 2/27/2017, 8:35 a.m.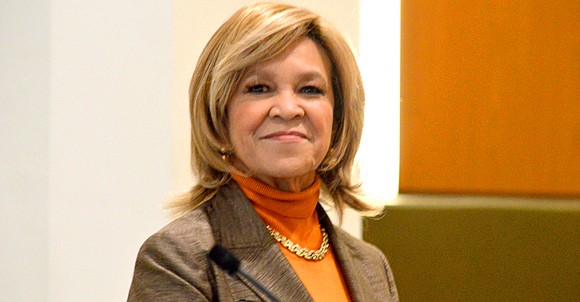 The Dallas Examiner
While "bathroom bill" and school voucher debates have dominated the conversations of many prior to the Texas Legislature meeting for its 85th session, State Rep. Helen Giddings, District 109, took time to explain other bills up for vote – bills that may create greater impacts for ex-criminal offenders who are now attempting to find stable employment in the job market as they re-enter society.
Giddings spoke at the UNT College of Law downtown Feb. 17 about House Bill 1507 and House Bill 1508. Both are sponsored by the representative and supported by the administration, faculty and students of the law school. Scholars from the UNT program assisted Giddings in the research needed in preparing the bills.
"These students in the law school have studied the issue of re-entry and some of the problems that ex-offenders encounter once they've paid their debt to society, and so they have come up with a couple of bills to make that process easier," she remarked on their work.
HB1507 "increases awareness to judicial clemency while House Bill 1508 will expand access to information around occupational licensing restrictions for ex-offenders," David Feigen, legislative director for Giddings, noted in a prepared statement.
"These bills are common-sense reforms that will help reverse the systemic barriers to re-entry for ex-offenders who have paid their debt to society and turned their lives around," he wrote further.
HB1507 calls for a standard method for defendants who satisfactorily complete community supervision to be released "… from the penalties and disabilities resulting from the offense" by authorization of the court. Once these individuals have met all criteria that has been legally required of them, they would potentially become free from any indefinite punitive measures, according to Texas Legislature Online.
Royal Furgeson, dean of the school, emphasized that HB1507 does not include clemency for those convicted of violent crime or other serious felonies, and neither bill would endanger public safety in any way.
"These present an opportunity that comes with probated offenders. So these are people, many of them first offenders, who successfully completed probated sentences and so they are very good candidates for judicial clemency," he said on HB1507. Only a judge would have the discretion to grant such a decree.
"He has seen everything, he has understood what's happened, and that judge… is best able to decide whether these people are really ready to go back to productive society," Furgeson offered. Two-thirds of all felony sentences in the state are probated to begin with, he confirmed. The Federal Bureau of Prisons reported that in Texas alone, 5,261 federal inmates were released in 2016. In fiscal 2015, the Texas Department of Criminal Justice released 70,311 inmates. Of that number, 21,781 were Black.
"This would make an enormous difference… in allowing people to having their disabilities waived so they can get back into the workplace," the dean continued.
HB1508 states that an entity offering an educational program to prepare an individual for an occupational license must inform the individual whether they do or do not qualify for that license.