Giddings discusses bills to help ex-offenders re-enter society
MIKE McGEE | 2/27/2017, 8:35 a.m.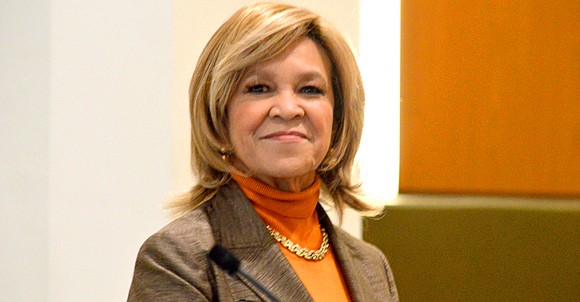 Currently, in many situations, ex-offenders will go through a licensing program, such as nursing or electrical training, only to find at completion of the program that the law has precluded them from obtaining the license they worked toward due to the nature of their offense. Third-year law student Tahj Walker spoke further about HB1508.
"Part of our research was, again, on occupational licensing and so we wanted to make sure that there was notice given to those who have been convicted of a felony and that they were aware that there was criminal history evaluation letter available to them, whether it be through the [Texas Department of Licensing and Regulation] or another agency," he said. "So what we wanted to do was basically just widen the scope of their knowledge so that they didn't go through the process of paying for the classes, going through the training and skills in the field and then only to find out on the back end that they were not eligible for that license – whatever it was – for barber school, et cetera."
These letters provide information based on the individual's situation to determine his or her suitability for a license.
"The Department has issued Criminal Conviction Guidelines for each occupation the Department licenses. These guidelines list the crimes which are considered to relate to each occupation, as well as other factors that affect the decisions of the Department," the TDLR Administration stated.
Stephanie Bell, a law student in her second year, pointed out that those reentering society stood to lose thousands of dollars and hours on training should the bill not pass.
"Through that process, some of the license organizations for that particular field require student permits or exams, and so we found that there are some where, when a person applies for a student summit, they're not asked about their criminal history. When they apply to the school they're not asked about their criminal history. When they get to the end of the program they take their exam; they're not asked about their criminal history, and then after passing everything, meeting all the requirements … then they go to apply for their license and then they're denied," she said.
"You're going to have to pass this background test before you spend all of your money and spend all of the time and effort to go through this class," Giddings illustrated simply.
While the state already has in place criminal history evaluation letters, they were something that even the law students researching the bill had trouble accessing, Bell said.
"So, by making the schools tell the people about the availability of this letter and how to find the letter, then the students have a better opportunity to be able to utilize that tool and determine before they invest everything whether they're going to be precluded based on the conviction," she added.
She pointed out that, at minimum, even receiving news that past convictions bar certain individuals employment from a specific licensed vocation, HB1508 could prevent those people from wasting precious funds and time on a specialized program they were never eligible for by law.
"We're not looking for them to screen people and do background checks but allow for the individual to make the decision whether that's an education they still want to pursue or not, and to be able to make an informed decision," Bell expressed.