A spectacular construction: Telling our stories to the world
Architect shapes nation's view of Black history
MARTHA WAGGONER | 2/27/2017, 8:39 a.m.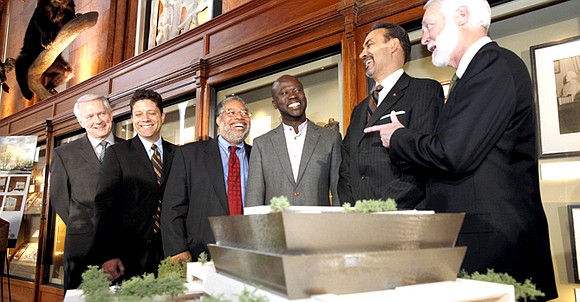 DURHAM, N.C. (AP) – The National Museum of African American History and Culture was a long time coming, but for architect Phil Freelon, it was right on time.
"It seems like I was preparing for that my whole life," Freelon said in an interview at his office in Durham. "It came along at a time when I was prepared. If it had come online 10 years earlier, I think the Smithsonian might have considered me too young or not as experienced."
Freelon, 63, was principal architect for the museum, which opened to intense acclaim and popularity Sept. 24 in Washington.
He's now world-renowned for his designs, but his success didn't come quickly or easily.
While home for the summer from college, he once resorted to nagging a local architect into letting him sit at a spare desk and deliver blueprints to engineers as he sought to enter a field with few fellow African Americans.
Freelon, a native of Philadelphia, worked for years at firms in Texas and North Carolina before opening his own with one employee – himself. It took more years to build a national reputation, designing projects such as the National Center for Civil and Human Rights in Atlanta and the Museum of the African Diaspora in San Francisco.
Freelon doesn't design prisons, casinos or strip shopping centers, preferring libraries, museums and schools – "projects that contribute to society in some way," he said.
A few years ago, The Freelon Group merged with Perkins+Will, where he's the managing and design director.
His architecture team competed against larger, better-known firms for the National Museum of African American History and Culture, and Freelon felt like an underdog. However, his team aced a key criterion, museum deputy director Kinshasha Holman Conwill said: "an understanding of the project."
"That's where they knocked it out of the ballpark," she said.
Freelon's personal style is "persuasive without being bullying," she said. "Some architects have huge egos, and they kind of beat their clients into submission. Phil makes you feel like maybe it was your idea."
Yet his crowning success came mixed with heartrending news.
Months before the Washington museum opened, he was diagnosed with ALS, a degenerative neurological disease that leads to total paralysis. Average life expectancy after diagnosis is three to five years.
"This condition is fairly predictable," he said. "There's no cure. You have to kind of make your own peace with it. And my approach is to keep it moving and not to go home and just fret about my misfortune, but to continue to do the work that I love and that is making a difference in people's lives."
His current projects include a $50 million expansion of the Motown Museum in Detroit. He started it by asking steering committee members for images of buildings they loved and for something from Motown that resonated with them, said Robin Terry, the museum's CEO and chairwoman.
"Then we went around the room, and each person shared whatever their object was," said Terry, grandniece of Motown founder Berry Gordy. "It was such an authentic experience, because it connected everybody to what that thing is that's so magical and special about Motown for them. And he ... continues to infuse that kind of authenticity into our process."