A spectacular construction: Telling our stories to the world
Architect shapes nation's view of Black history
MARTHA WAGGONER | 2/27/2017, 8:39 a.m.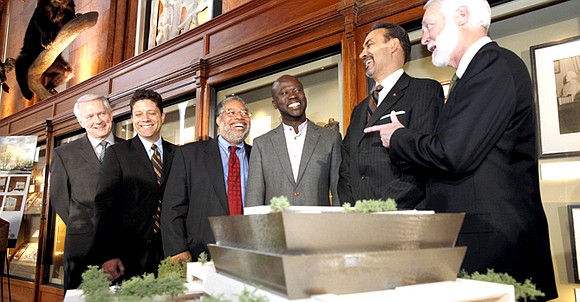 Freelon and his wife, Grammy-nominated singer Nnenna Freelon, have strolled through the Washington museum anonymously, eavesdropping on visitors' conversations. The couple wanted to know how people are affected by his design – a building with a three-tiered shape inspired by a symbol from the Yoruba people of West Africa featuring a crown.
"I found that it was very generational, the way people experienced the museum – that very, very young children were moved by different things than people who lived some of the history that they were seeing displayed," Nnenna Freelon said. "And what I love about the museum is that there are some very painful stories that have been told, I think, in a very artful, honest and dignified way. But it isn't all pain. You need that yin and yang."
The museum sits near the famed reflecting pond, site of the 1963 March on Washington, which both Freelons' fathers attended. U.S. Rep. John Lewis, who helped organize the march led by the Rev. Martin Luther King Jr., also helped give birth to the museum. His 2003 bill got the government wheels turning to place it on the last buildable space on the mall.
In December, Freelon and his family established the Freelon Foundation and launched the Design a World Without ALS campaign to raise $250,000 for the Duke ALS Clinic. The campaign will feature an April 20 performance at the Carolina Theatre in Durham. Nnenna Freelon will sing.
While Freelon continues to design buildings, he's let go of other duties. He no longer teaches at MIT, and he resigned from the U.S. Commission of Fine Arts.
But he finds time to spread his love of architecture in other ways, such as visiting his grandson's second-grade class at the Duke School one January afternoon. He displayed a slide showing the fountain at the Atlanta center and asked a boy to read the King quote that inspired the installation.
"We are determined to work and fight until justice runs down like water," the boy read, "and righteousness like a mighty stream."
Freelon helped the child pronounce 'righteousness,' then explained the role that a beautifully designed building can play in the Civil Rights Movement.
Later that day, describing the visit to his wife, Freelon was still upbeat about the class.
"Maybe one day someone will say, 'I decided to be an architect after hearing Phil Freelon speak,"' he said.
Allen G. Breed and Mike Householder/The Associated Press contributed to this report.