Trump exchange with Black journalist sparks outrage
ERRIN HAINES WHACK and ERICA WERNER | 2/27/2017, 7:54 a.m.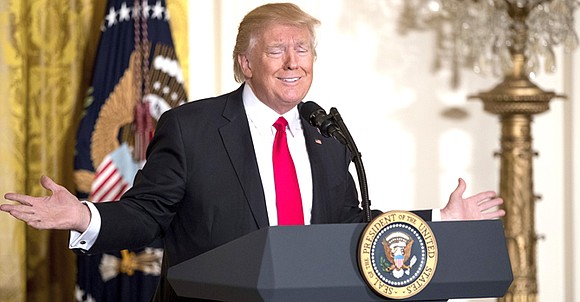 Associated Press
Many African Americans are expressing outrage over a testy exchange between President Donald Trump and a veteran Black journalist, with many considering the incident to be the latest indication of his inability to relate to them.
Already skeptical of Trump, many Blacks said they were exasperated by the fact that, during his news conference on Feb. 16, the new president asked April Ryan, longtime White House correspondent for American Urban Radio Networks, to help broker a meeting for him with Black lawmakers.
"Will you meet with the Congressional Black Caucus?" Ryan asked. Trump responded: "I would. You want to set up the meeting? Are they friends of yours?"
The exchange set off a firestorm on social media as many Black people balked at Trump's suggestion of an assumed relationship between Ryan and CBC members because they are of the same race.
Susan Rice, U.N. ambassador under the Obama administration, tweeted an article about the incident and called Trump's remarks "notably offensive."
"I'm also really pleased he didn't ask her to sweep and mop in the room where the press conference was being held," Rep. Emanuel Cleaver of Missouri, a former CBC chairman, quipped during an MSNBC interview on Friday.
Members of the Congressional Black Caucus expressed bafflement and dismay after hearing about Trump's comment.
"As a member of the Congressional Black Caucus, I believe we deserve more respect for the integrity of the institution and the work we are doing to help protect the interests of minorities and all Americans," Congresswoman Eddie Bernice Johnson, D-TX, said in a prepared statement. The president's comments today during his lengthy press conference were once again a disruption to the true issues impacting our nation. This includes his lack of transparency and understanding the importance of working with the other two branches of government. … the president has continued to dismiss and belittle us when he has ignored our request to meet with him formally at the White House. We do not wish to be divisive but his actions are showing that he does not care to prioritize the needs and issues of what takes place in Black communities or work with those of us who have firsthand experience in addressing the issues that gravely impact minority communities."
Rep. Jim Clyburn of South Carolina said there is "an element of disrespect" in Trump's comment to Ryan, asking her whether she was friends with CBC members and could convene a get-together.
"He's not going to ask any other reporter to do that for any other group, so why did he do that to her? I think that was pretty instructive to me," said Clyburn, a veteran lawmaker and member of the House Democratic leadership.
When asked whether Trump was implying that all Black people know each other, Clyburn said, "I don't know what his implications were but that's my interpretation."
Rep. Joyce Beatty of Ohio seemed equally offended.
"We have a rich history, we have some almost 50 members of the Congressional Black Caucus. We're not new. What a president should say is, yes, it's already on my agenda to talk to them," she said.