Latest sickle cell study points to new pain treatment
MIKE McGEE | 1/7/2017, 11:41 a.m.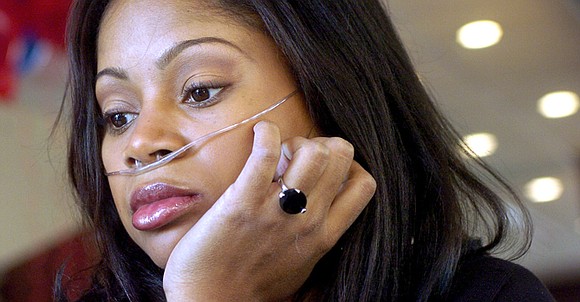 The Dallas Examiner
It is estimated that that sickle cell disease affects 100,000 Americans and occurs among approximately 1 out of every 365 Black or African American births and 1 out of every 16,300 Latino American births, according to the Centers for Disease Control and Prevention.
The inherited condition, in which which red blood cells become hard and sticky and develop a C-shape and in turn cause blockages in smaller blood vessels, can be fatal but is not the death sentence it once was. There are continuing advances in the treatment of SCD, and the CDC cites "Sickle cell-related death among Black or African American children younger than 4 years of age fell by 42 percent from 1999 through 2002. This drop coincided with the introduction in 2000 of a vaccine that protects against invasive pneumococcal disease."
In addition, a study presented by lead investigator Dr. Kenneth Ataga at the 2016 American Society of Hematology Annual Meeting and since published in The New England Journal of Medicine offers insight into a new treatment intended to reduce the pain associated with SCD.
A new medication, crizanlizumab, developed by the pharmaceutical company Novartis Oncology, has been shown to reduce what is known as "sickle cell-related pain crises," reported Ataga. The doctor, with the Division of Hematology/Oncology, University of North Carolina, Chapel Hill, described such common flare-ups as "acute painful episodes" that have limited treatment options.
The 12-month study, which began in August 2013, indicated that crizanlizumab will potentially provide relief for a variety of SCD patients. Currently, a drug called hydroxyurea is in use for acute pain episodes but is not often prescribed.
The study began with 198 patients between the ages of 16 and 65 who had common genotypes, or traits, of SCD – such as sickle cell anemia – and met a variety of eligibility criteria.
"They had to have between two and 10 pain episodes in which they had to go see a doctor to get pain medicine in the previous year and they had to meet other criteria as well," the doctor said.
Patients were randomized into three groups; one group received a high dose of crizanlizumab, one group received a lower dose, and one group was given a placebo.
According to the results in the report, the drug "reduced the median annual rate of sickle cell-related pain crises – or SCPC – by 45.3 percent compared to placebo … in patients with or without hydroxyurea therapy." Patients on the lower dose of crizanlizumab also showed some improvement, but the larger dose created the biggest impact.
Bruno Strigini, CEO of Novartis Oncolology, also weighed in on the findings.
"Patients have long been in need of a new therapy for treatment of SCPC, the most common and debilitating complication of sickle cell disease. We are pleased that data from the SUSTAIN study show SEG101 – or crizanlizumab – may have the potential to become the first new option for patients dealing with SCPC since hydroxyurea was approved for use in sickle cell anemia about 20 years ago," he said in a prepared statement.