US levels sanctions against Russia over election hacking
JOSH LEDERMAN and TAMI ABDOLLAH | 1/9/2017, 9:08 a.m.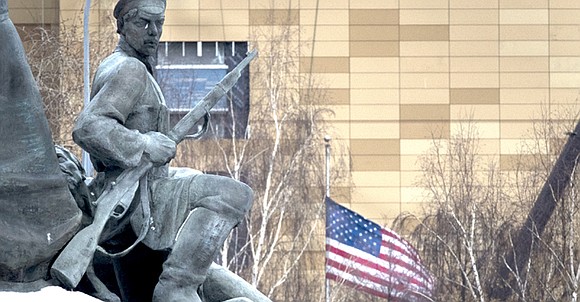 HONOLULU (AP) - In a Cold War-era style diplomatic showdown, the United States unleashed a string of sanctions and ordered expulsion of 35 Russians in retaliation for alleged cyber-meddling against the U.S. election, and Russia's foreign minister said Moscow is weighing a move to kick out a like number of Americans.
The confrontation, which had been festering even before the Nov. 8 presidential election elevated Donald Trump to the presidency, puts pressure on the billionaire businessman to not let Moscow off the hook after he takes office on Jan. 20.
Russia's government threatened retaliation in general terms Thursday and continued to deny U.S. accusations that it hacked and stole emails to try to help Trump win. Trump said the U.S. should move on, but in a sign he was no longer totally brushing off the allegations, he said he planned to meet with U.S. intelligence leaders this week to learn more.
On Friday, Foreign Minister Sergey Lavrov expanded on the Moscow threat, suggesting pointedly in televised remarks that up to 35 American diplomatic personnel would be ousted from Russia.
Lavrov said the foreign ministry and other agencies have suggested that President Vladimir Putin order expulsion of 31 employees of the U.S. Embassy in Moscow and four diplomats from the U.S. Consulate in St. Petersburg. Another suggestion is to bar American diplomats from using their summer retreat on the outskirts of Moscow and a warehouse south of Moscow.
A month after an election the U.S. says Russia tried to sway for Trump, President Barack Obama on Thursday sanctioned the GRU and FSB, leading Russian intelligence agencies the U.S. said were involved. In an elaborately coordinated response by at least five federal agencies, the Obama administration also sought to expose Russia's cyber tactics with a detailed technical report and hinted it might still launch a covert counterattack.
"All Americans should be alarmed by Russia's actions," said Obama, who was vacationing in Hawaii. He added, "Such activities have consequences."
He said the response wasn't over and the U.S. could take further, covert action – a thinly veiled reference to a counterstrike in cyberspace the U.S. has been considering.
Yet the sanctions could easily be pulled back by Trump, who has insisted that Obama and Democrats are merely attempting to delegitimize his election.
Meanwhile, Prime Minister Dmitry Medvedev charged Friday that Washington has become immersed in "anti-Russian death throes."
Medvedev, who focused on improving U.S.-Russia ties when he was president from 2008-2012, called the latest diplomatic breach "sad" in a Twitter post.
As part of the punishment leveled against Moscow, the U.S. kicked out 35 Russian diplomats, in response to Russia's harassment of U.S. diplomats. They also shut down Russian recreational compounds in New York and Maryland that U.S. officials said were being used for intelligence.
It was the strongest action the Obama administration has taken to date to retaliate for a cyberattack, and more comprehensive than last year's sanctions on North Korea after it hacked Sony Pictures Entertainment. The new penalties add to existing U.S. sanctions over Russia's actions in Ukraine, which have impaired Russia's economy but had limited impact on Putin's behavior.