Report details national impact of Affordable Care Act
Special to The Dallas Examiner | 1/16/2017, 8:54 a.m.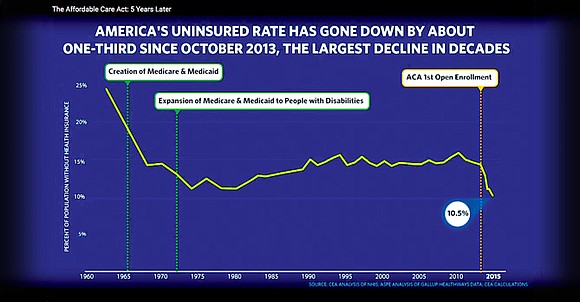 Special to The Dallas Examiner
Recently, the U.S. Department of Health and Human Services released an extensive compilation of national and state-level data illustrating the substantial improvements in health care for all Americans in the last six years. The uninsured rate has fallen to the lowest level on record, and 20 million Americans have gained coverage thanks to the Affordable Care Act. But beyond those people who would otherwise be uninsured, millions of Americans with employers, Medicaid, Medicare or individual market coverage have benefited from new protections as a result of the law.
"As our nation debates changes to the health care system, it's important to take stock of the historic progress in recent years," said HHS Secretary Sylvia M. Burwell. "Whether they get their coverage through an employer, Medicaid, the individual market, or Medicare, Americans have better health coverage and health care today as a result of the ACA. Millions of Americans with all types of coverage have a stake in the future of health reform, and it's time to build on the progress we've made, not move our system backward."
Highlights of the data release include:
Employer coverage: More than 150 million Americans are covered through employer-sponsored health plans. Since the ACA was enacted, this group has seen:
• An end to annual and lifetime limits: Before the Affordable Care Act, 105 million Americans with employer or individual market coverage had a lifetime limit on their insurance policy. The ACA prohibits annual and lifetime limits on policies, so all Americans with employer plans now have coverage that's there when they need it.
• Young adults covered until age 26: An estimated 2.3 million young adults have benefited from the ACA provision allowing children to stay on their parents' health insurance up to age 26.
• Free preventive care: Under the ACA, health plans must cover preventive services – like flu shots, cancer screenings, contraception, and mammograms – at no extra cost to consumers, benefiting about 137 million Americans, most of whom have employer coverage.
• Slower premium growth: Average family premiums for employer coverage grew 5 percent per year from 2010-2016, compared with 8 percent over the previous decade. Family premiums are $3,600 lower today than if growth had matched the pre-ACA decade.
• Better value coverage: Insurers must now spend at least 80 cents of premium dollars on health care, rather than administrative costs, or else give consumers a refund. Americans with employer coverage have received more than $1 billion in insurance refunds to date.
Medicaid: More than 70 million Americans have coverage through Medicaid or the Children's Health Insurance Program, including millions of children, seniors and people with disabilities. Under the ACA, Medicaid provides:
• More coverage: Thanks in large part to Medicaid expansion, 15.7 million more people have Medicaid coverage today than before the ACA's major coverage provisions took effect.
• Better health and financial security: Medicaid expansion has resulted in more than 500,000 people getting all needed care, over 625,000 fewer people struggling to pay bills, and more than 5,000 fewer avoidable deaths each year.