A garden in the desert: For Oak Cliff hosts MLK Day of Service
DENISHA McKNIGHT | 1/29/2017, 11:10 p.m.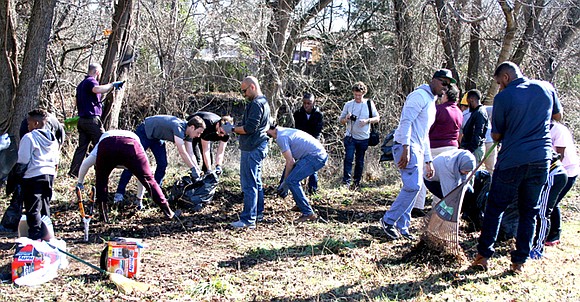 The Dallas Examiner
The Southern Dallas food desert has been a growing epidemic in the city that had few solutions. The lack of grocery stores in the southern sector has placed an economic and physical strain on low-income Black families, forcing them to spend extra money on transportation and spend long hours moving from one community to another.
Instead of waiting for city officials and grocery store chains to address the matter, a community leader joined local residents to take on the task head on and came up with solutions to fix the problems for one of Southern Dallas' historic communities.
Recently, the For Oak Cliff community outreach group came together with locals to create a community garden to relieve the current food desert during a Day of Service event on Martin Luther King Jr. Day, Jan. 16.
"To build out a community garden in a community that doesn't have much already is powerful," said Taylor Toynes, For Oak Cliff founder. "To have people come out and get their hands dirty and see people come together is part of what MLK's dream was."
FOC is an educational non-profit organization in the area, dedicated to improving and contributing to the growth of the Oak Cliff area. The community garden is centered in the 10th Street historic district, on a lot Toynes' grandfather bought 40 years ago.
"This is the root of where African Americans came into Dallas, and it's a strong need here," he said. "I don't know anything about gardening, but I'm going to have people that do and can help out and get things done."
Along with local citizens helping to prepare for the garden, Facebook CEO Mark Zuckerberg surprised the volunteers by coming to the historic area to lend a helping hand to Toynes' impactful cause and provide lunch for the workers.
"While I'm here [in Dallas] for MLK Day, I wanted to participate in a Day of Service," Zuckerberg said. "I feel really honored to be able to join the community in doing some service and helping clear out this garden."
The social media platform creator worked side-by-side with the men, women and children of Oak Cliff to clear dirt, debris and broken tree branches from the standard-sized landscape. Afterward, he was given a tour by older community residents and FOC members.
The tour shined a light on an issue much bigger than the food desert epidemic and the community garden as a whole. The clear divide between the African American residents in the Southern Sector and other residents in Northern Dallas in terms of resource accessibility and housing became a very heavy topic discussed between the group and Zuckerberg.
Years ago, after the Emancipation Proclamation, Oak Cliff was the first Freedman's Town in the city. It was filled with family unity and flourishing Black businesses like the well-established Black & Clark Funeral Home, beauty salons and grocery stores. Fellowship was a long-standing principle in the town that gave birth to the former N.W. Harlee School; named after a self-taught Black man; doctors like Dr. Nathaniel Watts; entertainers like blues singer T-Bone Walker; and many churches like the Elizabeth Chapel CME church.