Senate GOP health bill: Tax cuts for rich, hardship for elderly and poor
STEPHEN OHLEMACHER | 7/3/2017, 1:03 p.m.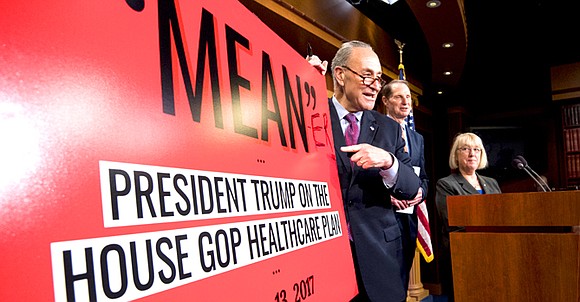 WASHINGTON (AP) – Senate Republicans' new health bill cuts taxes by nearly $1 trillion over the next decade, mostly for corporations and the richest families in America.
It uses a budget gimmick to comply with Senate rules against adding to the federal government's long-term debt.
Senate Republican leaders unveiled a draft of their bill, the Better Care Reconciliation Act, to repeal and replace President Barack Obama's health care law June 22 and argued it would eliminate job-killing taxes enacted under the 7-year-old health law. Democrats countered that the bill is a giveaway to the rich at the expense of middle- and low-income families who will lose health insurance.
"The Senate bill, unveiled today, is not a health care bill. It's a massive transfer of wealth from middle-class and poor families to the richest people in America. It hands enormous tax cuts to the rich and to the drug and insurance industries, paid for by cutting health care for everybody else," Obama said in a Facebook post.
On Tuesday, President Trump met with Republican Senators in the East Room of the White House to talk about the bill.
"So we're going to talk and we're going to see what we can do. We're getting very close," he said.
Trump blamed the Affordable Care Act for the rising insurance rates and discussed his continued mission to repeal it. He also went on to blast Democrats for apposing the bill.
"The other side is saying all sorts of things before they even knew what the bill was," Trump stated. "This will be great if we get it done. And if we don't get it done, it's just going to be something that we're not going to like. And that's okay, and I understand that very well."
Under the new bill, 22 million people would lose coverage. By 2026, an estimated 49 million people would be uninsured, compared with 28 million who would lack insurance that year under the ACA, according to a study conducted by the Congressional Budget Office and the Joint Committee on Taxation.
The study also showed that the average marketplace enrollee in 2026, the BCRA would raise their total costs, including net premiums plus cost sharing, by $2,294 – hitting the near-elderly and low-income citizens the hardest.
"The news from the Congressional Budget Office that the Senate's secret backroom deal to repeal health care will cost 22 million Americans their coverage proves one thing: Republicans are only interested in providing huge tax breaks to the wealthy, not in protecting our health," expressed Leon W. Russell, Chairman of the NAACP Board of Directors.
"The reality is that communities of color will be particularly hard hit by Trumpcare. Under this bill, insurers could charge [older] African Americans and other seniors as much as five times what they charge young adults for coverage.
"And all the while, Trumpcare will give nearly $700 billion to big corporations and the wealthy, including with a special tax loophole for health insurance companies that pay their CEOs many times more than the joint income of the average Black family.