Town hall meeting offers update on Legislative session
MIKE McGEE | 7/10/2017, 10:06 a.m.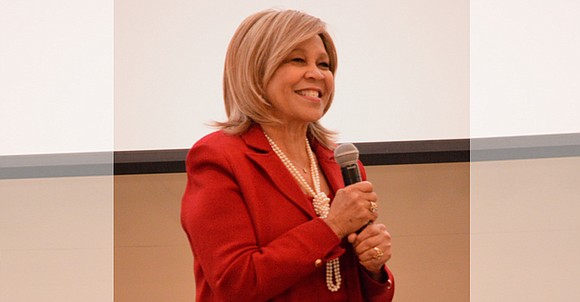 The Dallas Examiner
"This was a very contentious session. I will sum it up like that; very contentious," State Rep. Nicole Collier of District 95 announced in regard to the recently concluded 85th Legislature session in Austin. "I have never seen that much disrespect for the process of what we're doing in the legislature than this time."
Collier, Rep. Helen Giddings of District 109 and Sen. Royce West of District 23 featured at a town hall meeting hosted by the Texas Legislative Black Caucus at the University of North Texas at Dallas June 26. The purpose of the event was for the members, all Democrats, to report back to their constituents on the bills, laws and events of the recent Republican-dominated session.
With such a public interest, the meeting drew a standing-room-only crowd in Founders Hall, and an overflow room with streaming video of the program had to be opened.
Collier, the only Black representative for Tarrant County, criticized the passing of Senate Bill 4, better known as the "sanctuary cities bill." The legislator voted against it because she considered it discriminatory.
"And one, there's no good that could come of it," she explained her reservations. "Why do you want our law enforcement officers being immigration officers that are not trained in that type of role?"
The representative also thought there could be other ramifications.
"You know what? This can happen to us as African Americans as well, because I guarantee you there's going to be opportunity for them to pull you over and ask for your papers when you are detained," she mentioned. "And guess what? You're detained if you get pulled over for a traffic stop."
Although the speaker did not clarify what papers African American citizens might have to produce, she did call the enactment a "dangerous piece of legislation" as she mentioned the multiple lawsuits cities are filing against the law.
Collier did praise the passing of House Bill 674. The legislation prohibits out-of-school suspensions for second-grade students or younger except in the most extreme cases, such as when a gun is brought to school.
Furthermore, the expunging of an arrest record is now automatic upon acquittal and is free of charge, and under S.B. 1913, a citizen can no longer be jailed simply because they cannot afford to pay a fine, Collier added.
When Giddings took to the microphone, she too contemplated the work done at the State Capitol. "It was a very difficult session, perhaps the most difficult session in which I have had the opportunity to serve," she confessed.
That difficulty did not prevent Giddings from taking part in some legislative triumphs, however. She confirmed that changes in higher education had occurred with the assistance of the TLBC. Community colleges are now able to offer a four-year degree in early childhood education after the measure failed to pass in 2015.
Giddings also declared that university students are leaving school with as much as $40,000 or more in debt.
"One of the things that I thought contributed to that is Developmental Ed," she said.