Unity Challenge: Together We Dine highlights unity through diversity
MIKE McGEE | 7/10/2017, 10:10 a.m.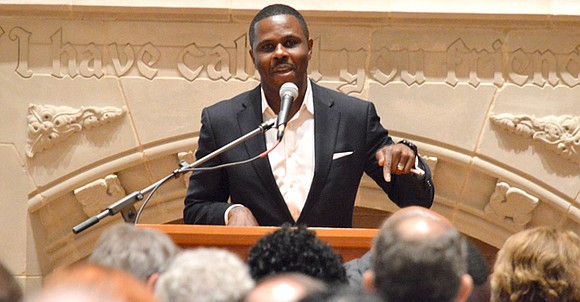 The Dallas Examiner
A simple, neatly packed boxed dinner served at the Together We Dine program June 20 contrasted the messy and complex work that race relations in the South have represented for centuries. Yet for Senior Pastor Richie Butler of St. Paul United Methodist Church, that one shared meal played a key role to soothing past wrongs and generating greater common understandings.
One hundred individuals seated within the Highland Park United Methodist Church gathered at dining tables of eight, all strategically mixed as much as possible by ethnicity and sex; two Black women and a White man might share a meal with Vietnamese man and a Japanese and a Hispanic couple; another table might seat an Indian woman, a Black couple, a White couple, a Jamaican man, and so on.
The event was part of the Year Of Unity Challenge, the pastor said.
The roots of the challenge reach back to 2014 in response to a St. Paul community forum after the protests and riots in Ferguson, Missouri, occurred. Leaders of local law enforcement agencies were present, and the full-house event was made up of a diverse audience.
"But the one thing that a pastor does not want, in terms of the emotions, that's what resonated: anger, frustration, disenfranchisement, mistrust. And so, out of that, Project Unity was born to really bridge divides," Butler said as he described the four pillars of the project as dialog, community building, education and empowerment.
Together We Dine was the first event in the Year Of Unity Challenge; there have been past, more structured affairs, but this was the inaugural, broad-based dinner for the general public.
"So, we will continue to build those types of events and allow people who just want to come together and have honest, courageous conversations about race," Butler said.
Facilitators trained in starting conversations and keeping them progressing were at each table. As the meal began, multiple cards used to "seed" conversation were passed around; tools for chatting with strangers that posed questions such as "How do recent violent events between police and racial minorities, primarily African Americans, make you feel?" or "Who is the most influential person for positive race relation in your life, and why?"
Diners would each have some time to answer a question, with no other questions or comments allowed. After everyone spoke, diners were each asked to reflect upon what they heard, and finally a wider, unregulated conversing took place. That natural engagement was exactly what the pastor was hoping for.
"Our city responded to the events of 7-07 last year with a great show of unity," the pastor related, referencing the shooting of 16 people by Micah Johnson after a protest march, "and I think there was a conversation among community leaders, you know, how do we keep this going?"
The moment became the Year of Unity, which in turn led to the challenge – a series of community gatherings to improve race relations in steps, according to the pastor.
"This is organized, and part of the vision – if we're talking about a movement – is using this organized moment to create an organic moment, and ultimately, I hope there are other Together We Dines that we don't know about, or that people let us know what they're doing, but that it takes on a life of its own," Butler voiced. "And that's ultimately what we want; we want a movement, and a movement is organic, and it just flourishes..."