Unity Challenge: Together We Dine highlights unity through diversity
MIKE McGEE | 7/10/2017, 10:10 a.m.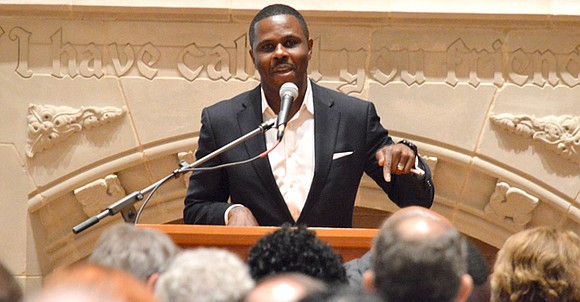 Sammy Yang, executive vice president and 2017 Banquet Chair of the DFW Asian-American Citizens Council, remarked that, as he is also a member of AT&T Biometric Academy, a diverse community was of some importance to him.
"I was approached by AT&T about this, and I feel that this is a very good start," Yang said. "As our chairman and the CEO said last year at our yearly conference – talking about racial issues – it also starts with me. That's what he said. So we do have the passion and we're going to make a difference in Dallas."
Yang admitted that he heard some things at his table that he did not expect.
"Our table [was] very diverse, so there was one gentleman who … is a lawyer; he said when he was growing up he was taking advantage that he was blind to racial issues out there."
He also voiced that there were assumptions made about him due to his race.
"Usually, when people see my Asian face and say, 'Oh yeah, he's good with math and he probability won't speak up,'" Yang smiled somewhat as he recalled such comments.
Once again, he considered the purpose of the evening.
"I think it's a good open dialogue," he said, adding that he believed that progress was made through the pastor's efforts. "Definitely, and I think it's a good start and we should do this more often."
Liza Ellis, part of Butler's congregation, affirmed this was the church's second such event that she and her husband had attended.
"They have mapped out events during the year, basically to bring people together of different races to show why it's important that we get along," she said, reiterating the spirit of the pastor's message. "And really, I think to start a conversation, and to continue a conversation that needs to be happening in our city and every place else."
She said that the dinner was not an end unto itself, but instead, "A piece of a huge part that needs to come together and be recognized. And I think the idea that, yes, we're different, but we can sit down for two hours and have a great conversation."
Ellis emphasized that at her table, all the attendees took to the night's mission with enthusiasm.
"The conversation never stopped, it never ended, everybody was interested, not one person took out their phone, and everyone's eyes kept on each other," she continued. "It was fun to watch and it was fun to be a part of."
It was exactly what Butler had hoped for.
"We want people to engage in constructive dialogue and activities that improve race relations. We have plenty of destructive stuff that is tearing the goal for improving race relations," he admitted. "That engagement; 'constructive' does not mean that it's not wrought with challenges and pain, and it's uncomfortable – and that's all right. But we need to engage in that so it improves racial relations.
"Hopefully, we set the stage for there to be honest communication so that we can move forward."
The principles of the challenge and upcoming events can be found online at http://www.yearofunity.com.