Foundation launches Raising Texas Teachers
Special to The Dallas Examiner | 7/17/2017, 1:02 p.m.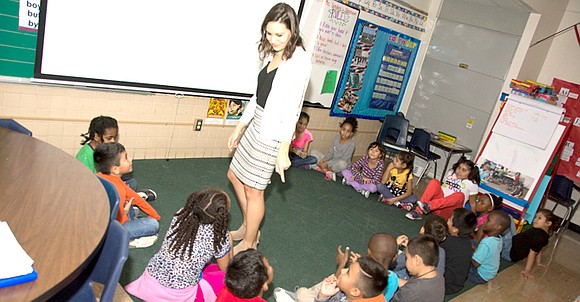 Special to The Dallas Examiner
The Raise Your Hand Texas Foundation recently launched Raising Texas Teachers, a program to provide $50 million over the next 10 years in scholarship funding for students committed to a career in teaching, and technical support for premier Texas teacher preparation programs.
The investment is part of H-E-B Chairman and CEO Charles Butt's continued philanthropic commitment to public education in Texas. Earlier this year, Butt pledged more than $100 million to establish The Holdsworth Center, a leadership institute devoted to supporting and developing public school leaders.
The scholarship program will grow to include at least 500 teaching fellows annually from over 10 university teacher preparation programs. Each teaching fellow will receive $8,000 per year as part of the Charles Butt Scholarship for Aspiring Teachers, as well as ongoing training and development opportunities, mentorship from sitting public school educators, and involvement in a statewide aspiring teachers network facilitated by Raise Your Hand.
The program will expand over time to include leadership development opportunities for the state's top high school students interested in a career in education. Partner universities will also receive technical assistance support to increase the quality of teacher preparation in Texas.
"Research consistently shows that the strength of the teacher makes the biggest difference in influencing a student's success," Butt said. "To improve academic achievement, it is critical that Texas elevate the status of the teaching profession, strengthen the existing pool of aspiring teachers, and inspire our most talented high school graduates to consider a career in teaching."
The world's highest performing students live in countries where teachers are well-qualified, well-trained and enjoy widespread respect in society, according to the 2013 Global Teacher Status Index.
"No education system can be better than its teachers," the report concluded. "Recruiting the brightest and best into teaching is a critical imperative in all nations, whatever their wealth or poverty."
Today, prospective Texas educators are trained in a wide variety of settings, many of which do not require rigorous training in the classroom before stepping into the role of lead teacher.
"Too often, teachers are asked to learn on the job with too little formal training in the practice of teaching. We wouldn't ask a pilot to learn on the job, nor a doctor without close supervision from an expert practitioner. The profession of teaching, and the education of our children, is no less important," said Alison Badgett, executive director of Raise Your Hand Texas. "With Raising Texas Teachers, our goal is to support universities who are rigorously preparing students to address the needs of 21st century students, and to help them to recruit the best and brightest to the profession."
University partners were selected through a competitive RFP process based on their capacity and commitment to deliver competency-based clinical preparation, and a willingness to establish strong collaborative relationships with districts where graduates teach. Selected universities include:
University of North Texas-Dallas in Dallas

Southern Methodist University in Dallas

Rice in Houston

Texas A&M University- Special Education program in College Station

Texas Tech University in Lubbock

Trinity University in San Antonio

Our Lady of the Lake in San Antonio

University of Houston in Houston

University of Texas Austin in Austin

University of Texas Rio Grande Valley- Student Teacher Educator Preparation: University Partnership in Edinburg