Honoring the fallen: Dallas shooting one year later
EDDIE BERNICE JOHNSON | 7/17/2017, 1:12 p.m.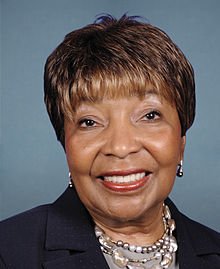 U.S. House of Representatives
One year ago, members of our community took to the streets of downtown Dallas to exercise their first amendment rights by speaking out and peacefully protesting against the killings of Alton Sterling and Philando Castile. What began as a peaceful evening on July 7, 2016, ended with a deliberate and barbarous attack on local law enforcement.
The calculated ambush and murder of the law enforcement officers in Dallas was a disgraceful act of violence. Yet in the face of such horrific adversity, these valiant officers did everything possible to prevent the further loss of life. They bravely charged into direct gunfire in an effort to protect the city and its people from the deranged assailant. Despite all the horrors of that evening, what I was able to witness and am proud of today is how police officers, citizens and the entire city of Dallas came together in the wake of such a devastating event.
In these moments of reflection, we need to remember that these brave members of the Dallas Police Department and Dallas Area Rapid Transit were not just officers. These brave men were also sons, fathers, brothers, friends and colleagues to many of us in Dallas. We must never forget to acknowledge the pain that their family, partners, friends, co-workers and fellow Dallas-ites endure on a daily basis since that tragic evening. But we must also never forget the victims' names: DPD Senior Cpl. Lorne Ahrens, DPD Officer Michael Krol, DPD Sgt. Michael Smith, DART Officer Brent Thompson, and DPD Officer Patricio "Patrick" Zamarripa.
• DPD Senior Cpl. Lorne Ahrens – Lorne Ahrens served DPD for 14 years. He worked for a time serving warrants, where a simple knock on the door could escalate into a life-threatening situation. Before moving to the Dallas area, Ahrens served in the Los Angeles Sheriff's Department for 11 years. For part of that time, he was a law enforcement technician, inputting and dispatching calls to the station, a demanding job that required fast thinking and professional calm.
• DPD Officer Michael Krol moved halfway across the country to Dallas in pursuit of his dream. After years of hard work and preparation, Officer Krol graduated from the Dallas Police Academy on April 25, 2008. He was a dedicated public servant who worked his way up from a position as a security guard for a Michigan hospital, to a Wayne County sheriff's deputy, and ultimately a Dallas Police Department Officer.
• DPD Sgt. Michael Smith worked in the DPD for over 25 years and gained a reputation for doing thorough and dependable work. He was recognized multiple times throughout his career, most notably winning the distinguished honor of being called the "Cops' Cop." The only thing that outweighed his work ethic at the department was his easygoing and affable manner. Prior to joining the DPD, he served seven years as an Army Ranger, where he developed a strong sense of service and an unparalleled dedication to helping others. On Sundays, he acted as a uniformed guard at the Watermark Church in Farmers Branch.