Broadnax appoints city's first Black female police chief
DENISHA McKNIGHT | 7/24/2017, 2:18 a.m.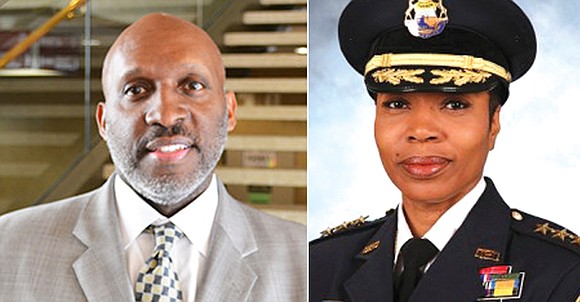 The Dallas Examiner
In the midst of multiple community and governmental issues plaguing the city of Dallas, city officials are looking for strong leadership to head the Dallas Police Department. Since the retirement of Chief David Brown, the city has been on an extensive search for the next Dallas police chief.
The new chief of police could receive a top pay of $213,000. City Manager T.C. Broadnax has the authority to set the pay rate and will have the final say over who will hold the position.
"I am working to make this process as transparent and inclusive as possible to ensure that we address all concerns of the community," Broadnax said as he discussed the official list of candidates who would participate in a three-day interview process. "Police officers are charged with protecting everyone, so panelists should reflect the perspectives of a broad spectrum of our city."
The process included a tour of various police facilities and parts of Dallas on July 10; panel interviews with faith-based, neighborhood and community leaders, members and advocates of the various police associations and lead police support groups, as well as partners in the law enforcement community on July 11; a public meet and greet where they were questioned by local residents about their intentions for the police chief office later the same day; and interviews with the city manager's staff on July 12.
The candidates were Malik Aziz, DPD deputy chief; Gary Tittle, DPD assistant chief; Rick Watson, DPD deputy chief; Michel Moore, Los Angeles Police Department first assistant chief; Carmen Best, Seattle Police Department deputy chief; U. Renee Hall, Detroit Police Department deputy chief; and Luther Reynolds, Montgomery County (Maryland) Police Department assistant chief.
Many of the candidates shared similar ideals during the meet and greet, naming Dallas as the perfect place to exercise change and build a better coalition.
"I look at Dallas as at a juncture, and it's an opportunity for me to come here and make a difference," said Moore, 36-year police officer of the Los Angeles Police Department and second in command.
Moore revealed a story similar to the others as a police deputy over a big city willing to communicate with residents.
"I'm a proud authentic police officer. I've been part of a major agency in a major city that faces major challenges," he said. "This is the perfect opportunity that my background experience can come in, learn and better understand … Dallas. There's a lot to be learned."
Several topics were often reiterated throughout the entire event as central issues: leadership, morale, police staffing, higher pay and crime.
"They need leadership here, and that's a challenge I would like to be a part of," said Reynolds, assistant chief of police of Montgomery County in Maryland.
Reynolds also placed a huge emphasis on the importance of police recruiting and diversity in his campaign.
"We have to have a police department that reflects our community," he said.
Tittle laid out a clear plan overcome each obstacle by focusing on transparency, efficiency, morale, hiring and uplifting police officers.