Reality of caring for a dying parent
GLENN ELLIS | 7/30/2017, 11:57 p.m.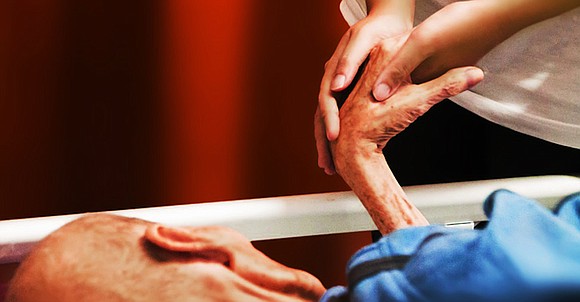 Strategies for Well-Being
There are two things that movies consistently get wrong: sex and death. Unfortunately, as a society, we spend far too much time thinking of sex and too little time devoted to death – especially of a parent.
Caring for a dying parent is a difficult and emotionally challenging task. However, effective communication can ease the transition.
Movies consistently present death in a false or unrealistic way. Real-life death is not always dignified, simple or tidy. Indeed, death can be an upsetting, messy, painful and traumatic experience for all parties involved.
Complications can arise during the course of an illness and can lead to increasingly worsening circumstances. Immobile or semi-mobile patients may feel determined to walk and may try to get out of bed. As a result, some may fracture or break their hip. As bad as terminal illness is, additional complications can make quality of life worse. Patients may become restricted to their bed and may rely on a catheter.
Regardless of the attempts to prevent it, as soon as they return home, complications such as a yeast infection or urinary tract infection may occur. This causes a patient to become even more frightened and restless. How is anyone supposed to take care of a dying person? It's a fairly straightforward to concept "nurse" a person back into good health, but how is anyone supposed to "nurse" them into death with dignity and compassion?
Then there's the morphine. Dying parents may often feel agitated and restless, so much so that they might try getting out of her bed. The morphine may help to calm them down. Is it unethical to give it to them to address mental rather than physical pain? Although her hip fracture causes pain, many children give their parents morphine more for their parents' restlessness.
The only organ donors you see on Grey's Anatomy are car accident fatalities. People rarely talk about mulling over whether or not to give someone's organs away while they're still conscious in another room.
These are the kinds of issues that children with dying parents struggle with every day. Many adult-children caregivers believe that their ill parent wouldn't have wanted to live this kind of existence. They may have stated that they didn't want a lingering, drawn-out death. This is why advance directives are so essential.
If you're like most families (including mine), generally, the care of a dying parent falls on the shoulders (and back) of one sibling or family member. Although it's rare for siblings to share parent care equally, it's a family responsibility. Not treating it as such "will haunt you" later on. Even if you live far away from your ailing parent, you can still help out. From ordering car service a couple times a week to paying bills online, anything that can be done via telephone or internet is within your reach. Just calling your mom more often "so she's not so needy" can provide relief to the sibling carrying the heaviest load, as can making the trip to be with your mom whenever possible, so your sibling can take time off.