Black Wealth 2020: New movement on a mission to 'turbo charge' Black wealth in America
Hazel Trice Edney | 7/31/2017, 12:27 a.m.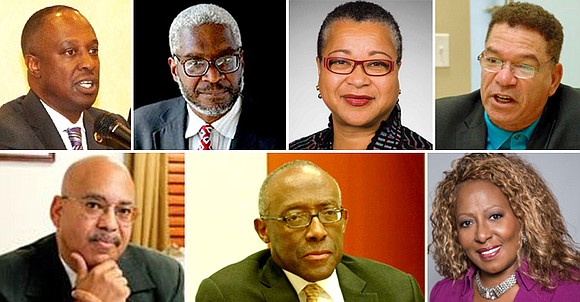 The ultimate goal is to "turbo charge" Black wealth, Grant said.
While Black Wealth 2020 is uniquely economic, it aims to work alongside traditional civil rights organizations, including the National Urban League, the NAACP and others, Winston said.
"We have been concerned that for many years the Black civil rights movement had been the only national voice of the African American community. Those groups do a great job but there are business and economic battles that the Black community has been fighting. And we don't believe that the Black community's voice has been strong enough and effective enough in that regard," Winston said. "And so we are able to strengthen each other in each other's activities as well as our collective voice for the Black community."
Other leaders in Black Wealth 2020 are HomeFree USA President Marcia Griffin; Zenviba Academy of Arts and Science President John Templeton; Collective Empowerment Group National President Dr. Jonathan Weaver; National Association of Real Estate Brokers President Ron Cooper; Enlightened: Beyond Expectations President Antwanye Ford; and Delta Sigma Theta President Dr. Paulette Walker. At latest count, the group has a total immediate reach of at least 3 million people.
Members of Black Wealth 2020 are quick to point to the historic roots of its economic goals. When Dr. Martin Luther King Jr. was assassinated on April 4, 1968, he had launched a "Poor People's Campaign," an economic justice movement that had begun in Memphis.
"King said he wasn't going to get to the promise land with us. But we as a people will get to the [promised] land. And people have forgotten that," Templeton said.
Over the past 49 years since the assassination of King, other Black economic strategies have popped up and fizzled out. For this movement, Black Wealth 2020 members say the strategy for sustainability is built-in, including the following elements:
• Black America's current state of affairs: "This current administration is going to force us to look internally because we don't have any help coming from outside our community," Busby said. "It's not about one organization or about one individual leading the conversation, but once the mission was set and the three goals were established we can now go back to our collective constituencies and say this is what's important."
• Youth involvement: Grant said the participation of youth is key. Black Wealth 2020 has begun incorporating and mentoring youth economic leaders in their monthly meetings. "In my study of history, going back to ancient times, I can't think of any major movement that was a societal changing movement that wasn't driven by the energy of youth," Grant said.
• Shared Leadership: "In the past, movements have been tied to one individual. And as soon as there is some issue, and perhaps maybe death, often times what happens on the demise of that individual is the organization goes through a down spin and it in many instances ends up being discarded," Weaver said. "As a result of this, there is no mindset or mentality among any of us that we want to be the one to be glorified or recognized as the so-called leader. That there is indeed shared leadership within this body and because we are so focused and so intentional about it, we really are just very resolute and determined to make this work."