Advocates oppose Trump's budget
JESSE J. HOLLAND | 6/5/2017, 1:45 p.m.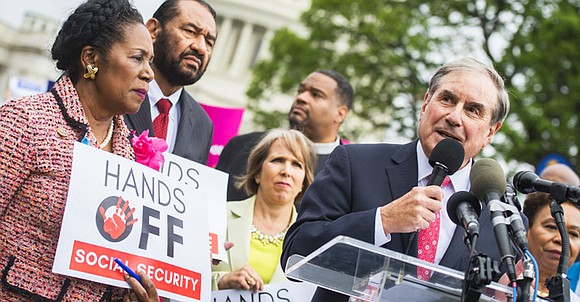 WASHINGTON (AP) – Advocates for minority communities say President Donald Trump's proposed budget answers the question he famously posed to Black Americans during his campaign, "What the hell do you have to lose?"
"The President's Budget Proposal for fiscal year 2018 is a far cry from the promises he made to work on behalf of all Americans," said Congresswoman Eddie Bernice Johnson, Texas-30. "Instead, the president and his administration propose a budget that provides an abundance of unnecessary and untenable tax cuts to powerful corporations and wealthy individuals, while jeopardizing the future of hard-working families."
Trump's $4.1 trillion spending plan for the budget year beginning Oct. 1 generally makes deep cuts in safety net programs, including Medicaid, the Children's Health Insurance Program and Social Security's disability program.
"I am utterly aghast by the flagrant contempt for the welfare of working- and middle class Americans exhibited in President Donald Trump's full FY 2018 budget," said Congresswoman Gwen Moore, Wisconsin-04. "The outrageous funding cuts outlined in the president's budget walk the line between ignorance and indifference while disregarding the needs of seniors, families, and children with disabilities."
The White House said its budget would put the country back on track for a healthy economy.
"We're not going to measure compassion by the amount of money that we spend, but by the number of people that we help," White House budget director Mick Mulvaney said this past week.
Critics decry the priorities in Trump's budget, which Congress is unlikely to pass as submitted. Still, it will serve as a guidepost for what the White House wants lawmakers to deliver to the president.
"It is an attack of unimaginable cruelty on the most vulnerable among us, the youngest, the oldest, the poorest, and hardworking people who need a little help to gain or hang on to a decent middle-class life," Hillary Clinton said Friday.
Though the proposed budget states its plan should create more American jobs, lawmakers aren't convinced.
"Trump's budget is a mob hit against hardworking American families," said Congressman Marc Veasey, Texas-33. "This budget represents yet another revoked campaign promise and makes President Trump's millionaire cronies wealthier at the expense of hardworking families. By eliminating job training programs that would boost wages and job opportunities across America, Trump is turning his back on the blue collar Americans that elected him to the presidency.
"Trump's plan cruelly ransacks critical safety nets put in place to help American families who struggle to make ends meet or need additional assistance during times of unemployment."
Trump's budget would slash Medicaid and the Children's Health Insurance Program, which provide health insurance for millions of poor families, by $616 billion over the next decade. It would cut the food stamp program by $191 billion over the next decade and the Temporary Assistance for Needy Families program by $22 billion.
"As a former welfare recipient, I simply cannot support such a misguided and cruel budget that targets Medicaid, Social Security Disability Insurance, and those trying to escape the chains of poverty," Moore said. "But as Americans, we should all be alarmed by the scope of the damage that will undoubtedly result because of the president's proposal. I urge both my Democratic colleagues and those across the aisle to forcefully oppose this budget and put the concerns of the people before those of their party."