Monday Night Politics presents candidates for the runoff election
DENISHA McKNIGHT | 6/5/2017, 1:48 p.m.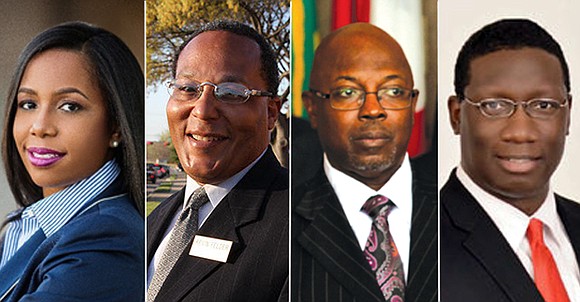 The Dallas Examiner
Monday Night Politics: Meet the Candidates, presented by The Dallas Examiner, was held May 22 at the African American Museum in Fair Park for the June 10 runoff elections. Candidates seeking the seats for Dallas City Council District 7 and District 8 were invited to participate.
The discussion began with District 7 candidates incumbent Tiffinni Young and Kevin Felder.
Young started off with a brief explanation for why she wasn't in attendance for the previous forum.
"First off, I would like to apologize to those who were here the last time," she said. "We had two previously scheduled community meetings that night so that is where I was, and I did inform the host about that."
She followed up with a brief summary of her contributions throughout her first-year run.
"It has been a year and a half of much progress with District 7," she said. "I am proud of the progress we have made in District 7. We have completed many gains such as the first Southern Dallas Public Improvement District – South Dallas-Fair Park PID – and an entrepreneurship center coming to the area; I was the leader for the first ever expunction expo in Dallas that got those with arrest records cleared of their records so that we can make sure they got housing and jobs. I look forward to working with many more of you throughout District 7 and the city to continue that progress. I could not get to that progress by myself. It's going to take you working alongside with me and the rest of the community to achieve even more progress in District 7."
Next, Felder introduced himself to the audience and shared why he is running for council.
"The reason that I ran is because it is not about me, it's about the community," Felder said. "South Dallas/Fair Park is at a crippling tipping point, and someone needs to grasp this district and this area and lead with knowledge and experience. The bottom line is I go out and knock doors, [and] the community tells me that they don't feel like they have a representative. They don't get their phone calls returned. They can't meet with their representative. That wouldn't be me. You deserve a representative that when you call you get your calls returned. When you ask for a meeting, you should be able to meet with your representative. That's not happening, and that's why I'm running."
Audience members were given the opportunity to ask the nominees more about their platforms and solutions to issues plaguing South Dallas.
Question: What is your take on the economic development changes in South Dallas, and how would you fix the gentrification problem?
Young: While we know we need new development out the district and the support of the new development, I've been very public and on the record that displacement of residents is not good, and I do not support the displacement. I serve as a member of the housing committee for the city of Dallas, and we have been working on a number of initiatives. One of which that I have raised in the Fair Park discussion is the preservation district. We've been working with the city attorney as well as the economic developers figure out how we can do that here in the city of Dallas.