Rebuilding Black Wall Street: Tulsa leaders hope to bring 100 new businesses
JUSTIN JUOZAPAVICIUS | 3/6/2017, 11:21 a.m.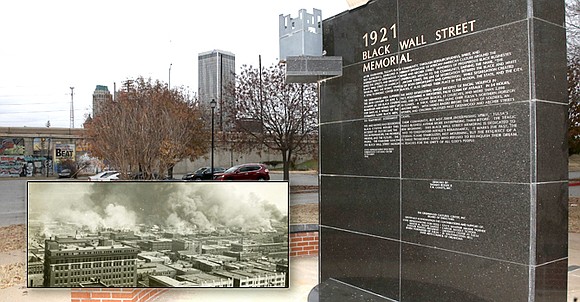 In 1921, rumors of an encounter between a Black man and a White woman in a downtown elevator spread, sparking anger among white residents and Ku Klux Klan members. Accounts of what happened on the elevator varied, but angry residents weren't willing to wait to sort it out. A newspaper article titled Nab Negro for Attacking Girl in Elevator fanned the flames.
A White mob descended on the area, looting businesses and leaving homes and churches smoldering. Leftover World War I planes that dropped bombs on the Germans just three years earlier were now employed to destroy the property of fellow Americans.
"What wasn't torched to the ground, they blew up. They blew up just about everything," says Laurel Stradford, whose great-grandfather was one of the wealthiest men in town and owned the namesake hotel destroyed in the riot.
Blacks rebuilt the area in the decades that followed, only to see their work wiped out yet again, this time under the guise of urban renewal and a new highway that cut through the heart of the district.
In the 1970s and '80s, Black residents who could leave fled to the suburbs. One by one, the groceries, mom and pop diners and storefronts closed. Houses were boarded up, allowing blight and crime to creep in.
Counting existing businesses that have recently opened or are under construction and commitments secured to relocate here, Jackson estimates she's 20 percent of the way to the goal, which must be met in four years.
Some businesses are warming to the idea. Pine Place Development envisions bringing shopping, dining, a cultural museum and upscale apartments to the area.
Tim Smallwood, who opened Tropical Smoothie Cafe in 2013, also sees the potential for a rebirth. He said family members told him he was "crazy" to invest money there.
"In a lot of people's minds, you are a poor community," Smallwood said.
But his investment paid off: The cafe has seen double-digit gains.
Ralph Knight, a retired airline mechanic whose mother was 6 when the rioting began, said a turnaround could remedy some of the blight that now pocks the community and give a younger generation reason to hope – and stay – in north Tulsa.
"It's going to do something to help the black community; it's going to be something to help the kids," Knight said. "It will cut down on gang violence."
Jackson, the project director who grew up here, knows the long odds, but draws upon what was possible here nearly a century ago.
"They paved a path. What they taught us was people from anywhere can do anything," she said.