Cicely Tyson honored at South Dallas school
DENISHA McKNIGHT | 3/16/2017, 1:12 p.m.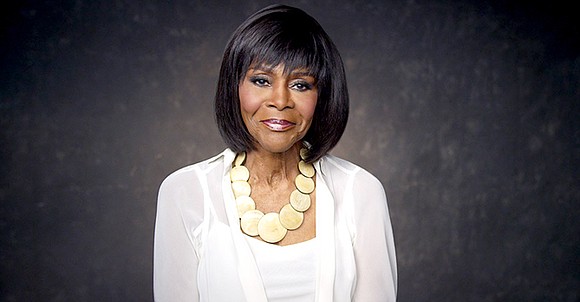 The Dallas Examiner
The portrayal of African Americans in television and movies has always been instrumental in shaping the household of Black families. From Hattie McDaniels to Viola Davis, positive representation of Black Americans has been a long-standing fight against stereotypical roles.
During Black History Month, one of those legendary Black actors who paved the way for the film stars of today was celebrated in South Dallas. Two-time Emmy award winner Cicely Tyson was acknowledged for her historical filmography Feb. 22 at the St. Philip's School and Community Center. She also participated in a live conversation with former CNN journalist Soledad O'Brien.
Tyson's journey to the big screen hasn't been easy. Growing up in Harlem, New York, with immigrant parents and five siblings rooted in Christian beliefs, the entertainer had to push through criticism from her religious mother and the obstacles thrown at her in a predominantly White industry.

At a young age, Tyson said she moved out of her mother's home to a close friend's house due to her mother's disapproval of her acting dream. No matter what barriers stood in her way she preserved with her newfound independence, especially after landing her first role in a play, Dark of the Moon.
"I am a person who thrives on adversity. I've never allowed it to stop me from doing what I felt strongly about," she asserted. "I don't succumb to it. I thrive on it."
Tyson's body of work is extensive and highly respected from roles in Emmy award-winning television film The Autobiography of Jane Pittman to Golden Globe Award-winning film Roots. One of the most impressive attributes about the illustrious film star is her ability to avoid roles that compromise her image and feed into stereotypes.
"One of the things I've never done was work for money," she proclaimed. "You cannot pay me enough to do a role for money. The thing that I am most proud of today is that I can look at a piece of work that I have done and not be ashamed of it."
During the moderated dialogue, one of St. Philip's alum, who was an aspiring actor, asked the leading lady about her script reading process and how she secured respectable roles.
"I read the script innumerable times because I want to know why I am in that story," she explained. "When I find out proficiently why I am in that story, then, I begin to work on the character."
Although her career has been filled with amazing accolades and recognition, Tyson said one of the most humbling moments in her life was the moment she received the Presidential Medal of Freedom, the highest civilian honor, from Barack Obama last year.
"To this day, I am still numb. I still can't believe that happened," she professed. "No matter what I did, I never felt that I would come face-to-face with the head of the country, and here I am standing in front of the President of the United States while he puts this Medal of Honor around my neck. It's not something I can describe."