Kirk awarded first James C. Belt Life Time Achievement Award
MIKE McGEE | 3/16/2017, 1:09 p.m.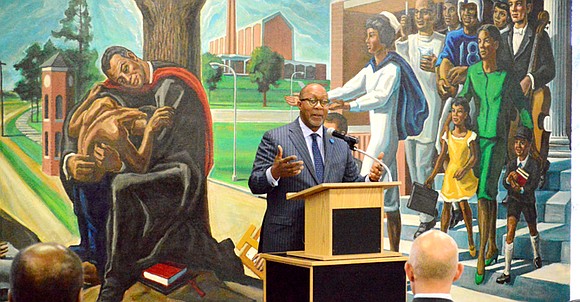 The Dallas Examiner
Ambassador Ron Kirk, former U.S. Trade Representative under President Barack Obama – the first African American to hold the position – was presented with the inaugural James C. Belt Life Time Achievement Award Feb. 25. The ceremony took place during an Honors Brunch presented by the United Methodist Men of the St. Luke "Community" United Methodist Church, the home church of Belt for 40 years, on the Paul Quinn College campus.
Kirk was not only appointed with the ambassadorship but is also an accomplished attorney and was the first Black mayor of Dallas, holding the office from 1995 to 2001.
Belt was an attorney and mentor whose prolific civic involvement included service on the Dallas Area Rapid Transit board, as well as lifetime membership in the NAACP. Before his death in 2015, he was the co-founder and Tri-Chair of the St. Luke "Community" Leadership Luncheons, served on the Building Committee, and chaired the St. Luke Trustee Board.
The recognition engendered praise for both Kirk and the award's namesake from members of the Metroplex's faith and political communities.
Dallas County Commissioner John Wylie Price recalled that he and Belt butted heads from time to time on various issues.
"I was a very fortunate brother because I got a chance to be side-by-side with him, and speaking at his transition and home-going I got a chance to say, 'If you have not traded barbs with James Belt, you haven't lived,'" he recalled, cheered by the laughter of those gathered.
He also praised the principles of the attorney.
"Maya Angelou said you can practice all the virtues in the world, but if you don't practice the virtue of courage, nothing else matters – and regardless, James Belt had courage. He didn't back down, no matter who you were."
Price then addressed the honoree.
"Mr. Mayor-Ambassador, I helped dedicate a new African American Bible that was published by the Inspirational Body of Christ IBOC Church," he voiced. "And in the front of The Bible it has African American history."
He spoke of seeing the name of the first African American mayor, Carl Stokes, then going further into the history and reading Kirk's name.
"And so I come today to embrace what you've done and, again – like James Belt – we ain't always seen eye-to-eye you know … but at the end of the day, I'll never forget … when you took, and made sure that that street, Malcolm X, was named," Price paused, and said not fully seriously, "I asked God to take away some of that stuff I said about you."
A burst of applause and laughter rose from the attendees.
"When Malcom X and Martin Luther King crossed, I'm telling y'all, you don't know how symbolic that was," Price emphasized. "But Malcom X comes into downtown Dallas. It didn't just stop in the 'hood. It comes into downtown Dallas. And so I just want to say on behalf of the community, 'Thank you.'"
When speaker Kelvin Walker, managing directors at RLJ Equity Partners and chairman of the board of directors of the YMCA of Metropolitan Dallas, rose to praise the ambassador, he noted that, while neither Kirk nor Belt were originally from the city, both were trailblazers and community leaders.