Kirk awarded first James C. Belt Life Time Achievement Award
MIKE McGEE | 3/16/2017, 1:09 p.m.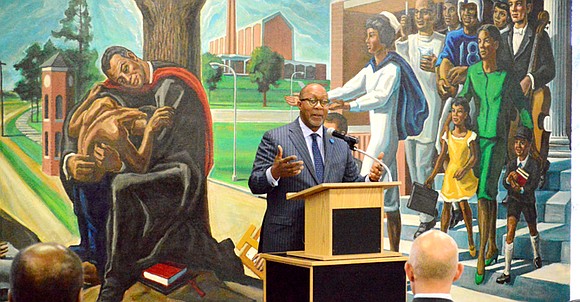 "As an example to all of us, I remember in 2002 when Ron ran for Senate, I remember thinking, 'Why is he doing this?' I knew it would be a tough race, and although he didn't win, it was very enlightening to see how the community came together – not just the Black community, but the community at large, across the state, in support of this," Walker recalled. "It was one of the things that really elevated and I think enlightened a lot of young men and women to think further, beyond just the city of Dallas."
Attorney DeMetris Sampson addressed the audience and announced that, during the 41 years she has known Kirk, there was one leader that especially favored him.
"Governor Ann Richards loved her some Ron Kirk," she declared. "You'd really have to hear her go on and on about Ron. She always thought there was a dynamic public servant lurking somewhere in Ron. She appointed him as Texas Secretary of State."
Sampson voiced that the governor's instincts were especially correct, as evidenced by Kirk's ascension to trade representative in Washington, D.C.
"When the president was sworn in; I was watching the president come down, you know, and the first lady, that was all interesting to me, but when I saw Ron descend down the steps of the Capitol building, with that hat on, with that coat on, taking his place up there with the dignitaries – and y'all know something? He called his mother from that perch that day while he was sitting there," she enthusiastically shared.
As Kirk took to the front of the room to be recognized, the full-capacity crowd greeted him with a standing ovation. Yet, before accepting his praise, he offered some himself.
"I cannot thank the United Methodist Men [enough] first of all, for honoring someone that I held in as high esteem as anybody … James Belt, and to Mollie and the family," he said, addressing the publisher of The Dallas Examiner. "Thank you for all you've done for sharing your remarkable husband and father with us."
The ambassador even credited Belt for the hat Sampson mentioned. It was 20 degrees during the inauguration, but Kirk mentioned he didn't know where to shop, so he asked Belt since the attorney was the only man he knew who wore a hat on a regular basis.
"He said, 'Boy, go to Roberts Ready To Wear, right down the street on Martin Luther King,' and I went in there and Robert was so proud," Kirk remembered.
"I'm going to be brief because my heart is just filled with joy," the honoree next stated.
He gave some background on the first Black mayors in the U.S. who came before him who also had roots to the state, concluding that he was less one of them and more following their examples.
"I understood, as my father explained to my brother and sisters, I asked if we were blessed to be the first to integrate school, that a lot of what we were doing was a circumstance of time, and my father always told us, 'I'm going to be proud of you, but I'm really going to judge you by whether you're the first or whether you're the last,' because we understood: You'd better conduct yourselves in a way that you leave that door open so that somebody can come behind you."
Kirk then matched Price's earlier quotation with one of his own.
"Maya Angelou had the simplest, shortest formula for how to live a good life, and she said 'Just do right,'" he explained. "And at the end of the day, you think about everything James and Mollie Belt were trying to do through The Dallas Examiner, trying to get the community to just do right."