Republicans rushing to replace Obama's health bill
ALAN FRAM and RICARDO ALONSO-ZALDIVAR | 3/16/2017, 1:02 p.m.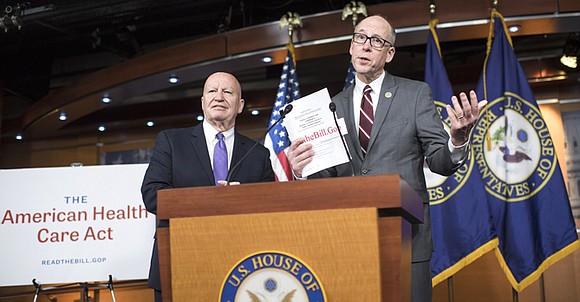 WASHINGTON (AP) – House Republicans on Monday released their long-awaited plan for unraveling former President Barack Obama's Affordable Care Act, a package that would scale back the government's role in health care and likely leave more Americans uninsured.
House committees planned to begin voting on the 123-page legislation Wednesday, launching what could be the year's defining battle in Congress.
GOP success is by no means a slam-dunk. In perhaps their riskiest political gamble, the American Healthcare Act is expected to cover fewer than the 20 million people insured under Obama's overhaul, including many residents of states carried by President Donald Trump in November's election.
Republicans said they don't have official estimates on those figures yet. But aides from both parties and nonpartisan analysts have said they expect coverage numbers to be lower.
Congresswoman Eddie Bernice Johnson, TX-30, has numbers that demonstrates costly the health care overhaul could be for Texans. The Impact of ACA Repeal on the 30th Congressional District of Texas, a report recently released by the Committee on Energy and Commerce and the Committee on Oversight and Government Reform, highlights the risks of repealing the current ACA for the newly revised plan.
"Nationally, more than 20 million previously uninsured Americans have gained access to affordable and high quality health insurance, and 265,600 people in my district have gained that same coverage. Thanks to this expanded access, the uninsured rate has reached an historic low," Johnson explained in a statement to the press. "The district report finds that 32,700 people in the district selected high-quality coverage through the ACA Marketplaces in 2016, including 27,600 people who received financial assistance to purchase their coverage. This coverage could be lost if Republicans dismantle the Marketplaces."
The plan would repeal the statute's unpopular fines on people who don't carry health insurance. However, premiums could rise by 30 percent for those without consistent coverage. It would replace income-based premium subsidies in the law with the cost of insurance with age-based ones that may not provide as much assistance to people with low incomes – with premiums increasing for older individuals. The payments would phase out for higher-earning people.
The proposal would continue the expansion of Medicaid to additional low-earning Americans until 2020. After that, states adding Medicaid recipients would no longer receive the additional federal funds Obama's law has provided.
More significantly, Republicans would overhaul the federal-state Medicaid program, changing its open-ended federal financing to a limit based on enrollment and costs in each state.
In Texas, 43,500 individuals could become eligible for Medicaid if the state expanded Medicaid will now lose the opportunity to gain coverage if the Republican Congress eliminates the Medicaid expansion, according to the District 30 report.
A series of tax increases on higher-earning people, the insurance industry and others used to finance the Obama overhaul's coverage expansion would be repealed as of 2018.
In a last-minute change to satisfy conservative lawmakers, business and unions, Republicans dropped a plan pushed by House Speaker Paul Ryan, R-Wis., to impose a first-ever tax on the most generous employer-provided health plans.