Republicans rushing to replace Obama's health bill
ALAN FRAM and RICARDO ALONSO-ZALDIVAR | 3/16/2017, 1:02 p.m.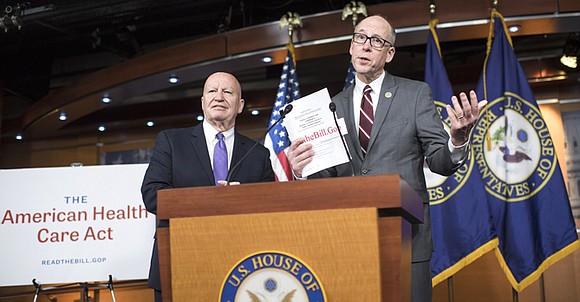 Popular consumer protections in the Obama law would be retained, such as insurance safeguards for people with pre-existing medical problems as long as there is no lapse in coverage, and parents' ability to keep young adult children on their insurance until age 26.
On Tuesday, Trump met with the Republican whip team to discuss the health care bill, according to Politico.
"We're going to do incredible things for the great citizens of our country. As I said during my joint address to Congress – and I think most of you liked that, right? – we're witnessing a renewal of the American spirit, a surge of optimism and a new national pride which is sweeping across the land. I see it," Trump declared as he vowed swift action. ""We're going to do something that's great. And I am proud to support the replacement plan released by the House of Representatives. It follows the guidelines I laid out in my congressional address. … This will be a plan where you can choose your doctor and this will be a plan where you can choose your plan. And you know what the plan is. This is the plan."
Congressman Marc Veasey, TX-33, released a statement Tuesday condemning the new health care plan for charging higher rates to the nation's senior population and cutting off Medicaid to the country's most vulnerable population, its children, along with the working poor.
"After years of claiming to be on the cusp of unveiling a better healthcare plan than the Affordable Care Act, House Republicans big healthcare reveal proves to be all smoke and mirrors," he stated. "The Republican plan will make sure that healthcare coverage will only be available to a privileged few. For millions of hardworking Americans, the new plan would raise healthcare costs while providing less coverage."
Veasey also disagrees with the Republicans plans to move swiftly.
"It is clear that Republicans are quickly trying to pass a poorly written bill without showing how many millions of Americans will be at risk of losing coverage under their replacement plan. The American people have made it clear, that they want quality healthcare that is both affordable and available when they need it. If we want to provide stability for hardworking families, gutting current healthcare protections and raising premiums for lower quality healthcare coverage cannot be the route we take."
Robyn H. Jimenez/The Dallas Examiner contributed to this report.