Exposed to Greatness
DENISHA McKNIGHT | 3/19/2017, 7:22 a.m.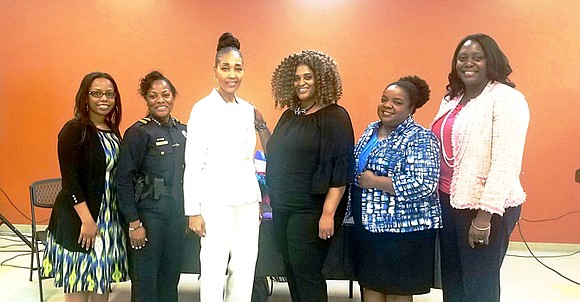 The Dallas Examiner
In 2015, women age 16 and over represented 46 percent of the workforce, according to the Bureau of Labor. Texas has the largest population of Black women working full-time, year-round – women who are paid 58 cents for every dollar paid to White men, according to the National Partnership for Women and Families.
The struggle for women to achieve high positions in the labor force has been a long, historical battle. From the Women's Suffrage movement to 30 percent of businesses being owned by women in 2015, women have worked hard to have their presence felt in America, according to Resourcefulmanager.com.
During Black History Month, a panel discussion themed "Exposed to Greatness" was held Feb. 23 at the Martin Luther King Jr. Recreation Center to focus on the challenges minority woman face in public service and corporate America.

Panelists included Dallas City Councilmember Tiffinni A. Young, District 7; Zeronda Smith, City of Dallas director of risk management; Dallas County Constable Tracey Gulley; Dr. Froswa Booker-Drew, director of community affairs and strategic alliances for the State Fair of Texas; and Shari Hicks, Frost Bank vice president of corporate banking. MLK Community Center Manager Pamela Jones moderated the forum.
"Being African American, a female, and being in charge has been a struggle, but it is well worth it," said Gulley, the first African American woman constable in Dallas.
Several panelists discussed how they overcame obstacles and how they used them in order to propel themselves into a position of leadership.
"I'm ignorant enough to think that this obstacle that they have put in front of me is one that I can overcome," said Hicks. "With that in mind, I go full fledge into a plight of 'this is going to make me a better person.'"
Although they maintain a positive attitude in their line of work, some days may feel like an uphill battle.
"Sometimes the reality is that it's hard to play that out because it seems like it's so much," said Young. "But even on just a day-to-day basis, as I'm walking through the doors of City Hall and trying to get justice and take care of businesses in behalf of the community, you face that adversity."
The panelists followed this topic by addressing how young Black girls can tackle the hurdles they will encounter in the future.
"Don't take a break from college. If you are in college, finish it out," said Smith. "Also, find your voice. You need to be passionate about whatever it is you choose that you are going to do. Be assertive, and don't let people talk over you."
Some of the women speakers gave advice from a religious standpoint and discussed how religion can help young girls in their careers.
"If God is the source of everything, then you should have no problem going to your source and asking Him what your purpose is," said Booker-Drew. "Also, recognize that gifts, talents and mistakes are designed to make you who you are. That will be used as a testimony for somebody else and to build you up."