Homeless in Dallas: Over half are Black
MIKE McGEE | 3/19/2017, 7:25 a.m.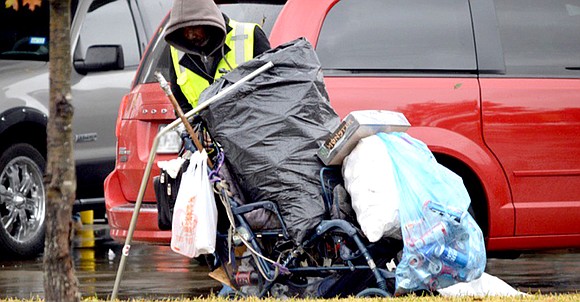 The Dallas Examiner
The numbers are just the preface to a broader story on race, age, gender and money, based on the perspective the Metro Dallas Homeless Alliance offered during its State of the Homeless Address 2017, when the organization dedicated to mitigating homelessness released the data culled from the Jan. 26 report, 2017 Point-In-Time Homeless Count.
Cindy Crain, MDHA president and CEO, discussed the count during a presentation to an audience of about 300 at the Goodwill Industries of Dallas on North Westmoreland Road March 9.
"We kind of look at all the data and information that we just gathered to try to understand the nature and the extent of homelessness, to use this data and information to inform our decisions on what we need to do next – what's working, what's not; how to become more effective," she said of the count, which was driven by over 1,000 volunteers across Dallas and Collin Counties.
The general facts presented were straightforward: Federally-defined homelessness overall went down in the latest count, totaling 3,789 individuals this year versus the 3,810 counted last year when the categories of unsheltered, emergency sheltered, Safe Haven housing and transitional housing were combined.
However, the number of unsheltered homeless increased 47 percent. Crain remarked that this increase was not unexpected since the count had much greater coverage this year, which included for the first time the cities of DeSoto, Mesquite and Grand Prairie. However, along with the overall tale the data told, some notably specific statistics stood out.
Dallas still has the highest concentration of indigent individuals in the area as Collin County showed a sharp increase in its homeless population. Transitional housing had decreased, but not due to empty beds; rather, because such programs were cancelled and replaced with Rapid Re-Housing, "which is a short-term subsidy of housing, considered best practice in family homelessness, and the people in those programs are not defined as homeless," the CEO explained.
"So if we really and truly look at ourselves and say we're going to do apples-to-apples, I would suggest that we had a half-percent decrease in homelessness overall, but within the core function of homelessness that we believe, and we see every day in our emergency shelters and on the streets, we would have had about an 8.6 percent increase in homelessness."
On the breakdown of the numbers by category in regard to race, the combined homeless count for both counties revealed African Americans make up 58 percent of the homeless population. "Obviously the supermajority of the people experiencing homelessness are people of color, and there is a statistic that is being proven quite well throughout the United States: Whatever your portion of your population is Black, African American, just times it by three and that'll give you the portion of your homeless who are Black and African American," Crain affirmed.
She also indicated that race was such a profound indicator of homeless populations that it was a factor needing specific scrutiny.
"Eighty-one percent of our emergency shelter families were African American," she said in reference to her review of the most recent Annual Homeless Assessment Report. "Eighty-two [percent] in our transitional housing. And then you see the individuals. That's more than three times, so we have to look at that and help them help our families."