Homeless in Dallas: Over half are Black
MIKE McGEE | 3/19/2017, 7:25 a.m.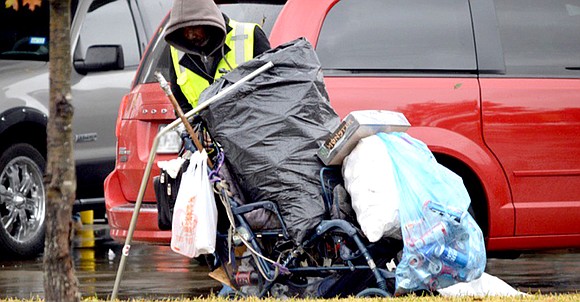 The Supporting Partnerships for Anti-Racist Communities initiative is a research and action plan in 10 cities intended to close the racial gap in homeless populations by creating changes in structural racism within societal systems. With SPARC Dallas in mind, Crain suggested that one part of the solution to the issue might lie in changing the way relief agencies themselves are organized.
"Metro Dallas Homeless Alliance is now a minority-majority office, but the top three people in my 10 command – I'm White. My vice president's White. My CPA's White. But our director – African American, and a director who is Latina. We have to look at our ourselves and say, 'Is this part of the system response? Is there a role leadership has?'" she suggested.
"Like, the clients are predominately African American, and the frontline case managers are absolutely primarily African American, and all the leaders are White, [so] we have to look at our structure. Opportunity for training, opportunity for management, opportunity to get that master's degree, et cetera … These are things that define our path because the correlation is absolute."
The gender makeup for the unsheltered homeless is 76 percent male, 23 percent female, according to the count, although the female percentage is more vulnerable to the unsafe environment of living on the street, Crain said.
The median age for a homeless person is 53, and the average time that people live on the street is more than three years without permanent shelter.
Veteran homelessness went up in the past year, bringing their numbers to 352, although Crain added the caveat that some veterans who used local homeless service providers arrived from outside of Dallas or Collin County as the Veterans Administration tries to place its clients in any assigned beds that it can.

Much of the data pointed to a substantially greater need in affordable housing, but the CEO reiterated such housing was dependent on members of the city council, and their votes at City Hall would only remain in line with what the constituents from their districts wanted and what neighborhoods would accept.
On that topic, Crain brought up what she called the epicenter of homelessness – the place or places where homelessness was concentrated. "It moved," she stated as she provided a map that depicted various pockets of homeless communities. "It moved as did Tent City move," underscoring that when the homeless encampment under I-45 was dismantled, most of its residents scattered elsewhere rather than got housed.
"This mean something to urban planners," Crain said of that geographic data. "This means something to people who are going, 'Do we build a shelter or do we build housing? Where do we put housing?' … This means something to neighborhoods."
Aside from low-income housing, Crain spoke of innovations on the horizon that may assist in reducing the number of homeless in the area.
A Homeless Management Information System will go live May 1 so that 40 different service providers can store information for case management on those whom they assist. HMIS will help clients by way of a tracking card; it will assist them in picking up their mail and record where they may be staying, such as The Bridge, The Stewpot and so on. The data will also help the MDHA figure out more effective paths out of homelessness, endeavoring to clarify, "What are the social determinants to success?" as Crain phrased the goal.
One potential proposal is a free bus service that runs to shelters, the VA, employment centers, groceries stores and so on, similar to the Project Access program utilized in Houston. It would get the homeless where they needed to go while circumventing the problem of lost or stolen bus passes. Crain said that on more than one occasion she personally witnessed instances in Tent City when homeless men verbally and physically assaulted homeless women in order to take away their bus passes.
There is also a potential rollout of a mobile app called Outlast Youth, based on a model used in Los Angeles for homeless youth.
The complete State of the Homeless Address 2017 can be found online at http://www.mdhadallas.org.