Monday Night Politics: Forum features Dallas City Council District 3, 7
DENISHA McKNIGHT | 3/19/2017, 7:28 a.m.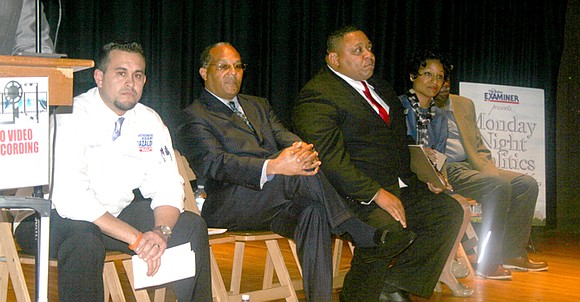 The Dallas Examiner
Monday Night Politics: Meet the Candidates, presented March 6 by The Dallas Examiner, featured several candidates running in the May 6 general election.
Held at the African American Museum in Fair Park, it began with candidates contending for the Dallas City Council position in District 3: incumbent Casey Thomas, Joe Lawrence Tave and former councilwoman Sandra Crenshaw.
Tave kicked off the forum by introducing himself and discussing why he's running for city council.
"All over this country, we are having problems, and one of the problems we have is leadership," he said. "We can have our likes and dislikes, but that is one of the major crises we are facing in this country. I am running again because I want to solve that problem. I also want to take my knowledge and my experience to apply that to make a difference in not only District 3, but the lives of people who live in District 3."
Thomas followed and revealed to the audience his future plans for the district.
"It has been an honor to be a city council member and represent you who live in the city of Dallas on the city council," he said. "We focus on bringing economic development into Southern Dallas. It doesn't happen overnight. It is a process. If anybody understands how the city works, then you know it is a process. It takes time, but we have laid a very solid foundation where you will see over the next 30 days we're going to be doing a District 3 development update where we are going to give updates on projects that are about to take off. So, I ask for your vote, and I ask for your support for at least two more years."
Crenshaw then introduced herself and discussed why she was running for city council. This will be her fourth attempt at a city council position.
"Each year that we have had a class of council members take that seat, our rights have digressed," she stated. "It has gotten to the point to where this particular class I don't think has enough experience or enough knowledge to continue representing us. Whenever there is redistricting done, it is based on whether they want something and not what's best for the public."
During the forum, members of the audience took advantage of the opportunity to ask the candidates questions regarding the needs of the district.
Question: When are we going to be able to have quality grocery stores in our community?
Crenshaw: We have to concentrate first before we can attract and obtain businesses. We've got to get back to the basics. We've got to do a better job being better consumers. We also have to demand quality customer service, so people will not drive to the Galleria in Cedar Hill so they can walk in a clean restaurant. It's demand, demand, demand. We got to do a little bit of homework before we can do the kind of things we're talking about in our community.