Passing Strange: Youth's intense journey to find The Real
MIKE McGEE | 3/19/2017, 7:30 a.m.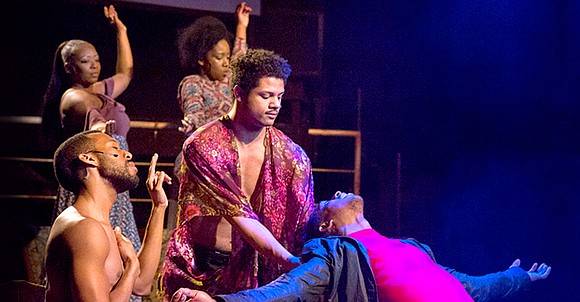 The Dallas Examiner
– Play review –
Passing Strange is an intensely spiritual and expressive coming of age story with an audience-participation multimedia explosion of incense, guitar jams and philosophical complexities. The Broadway rock musical by Tony Award winner Stew and his creative partner Heidi Rodewald made its regional debut March 2.
The story begins in the mid 1970s and focuses on the character Youth (Darren McElroy), a Black teenager who looks around at his suburban, rat race-based middle class Los Angeles existence and is overcome by the boredom and complacency it appears to foster. During a pivotal moment in his mother's church, as music swells during services, Youth has what he calls his first "religious experience" that awakens his spirit and his senses, not to the Lord, but rather towards a desire to search for The Real – an indefinable personal interpretation of who he is and what his role in society should be, as long as it is on his uncompromising terms.
Billed as "… a journey across boundaries of place, identity and theatrical convention," the musical becomes a guided tour of the psyche and self-identification of the "disaffected teen" stock character Youth represents with running commentary by the Narrator (Calvin Scott). The fact that he is being raised by a single mom (played by Nikki Morton) and is growing up at a time when psychedelia is giving way to punk rock amid the wider cultural progression of the Black Power ideology adds some extra layers to a story that has been told many different times in a variety of ways.
Youth's religious experience is soon followed by his first sexual awakenings and drug experimentation – courtesy of the more rebellious members of the church – which further push Youth toward his desperate search for The Real. The character emotionally and intellectually pinballs around through phases of boredom, discovery, rage, belonging, knowledge and an arrogance born of that knowledge, while still not sure what exactly he is looking for other than "identity" – but certain that he is on the right road to obtaining it.
Cast members Ayanna Edwards, Cam Kirkpatrick, Quintin Jones and Cherish Robinson play multiple roles throughout the production, introducing the audience to new characters along Youth's journey from 1970s U.S. through his formation of a band that eventually presents him the opportunity to tour Amsterdam and West Berlin in the early 1980s. The small cast is skilled enough to present very different personas to those whom Youth meets on his pathway to The Real, yet their presence also keeps the show rooted in his Los Angeles origins – the place he claims to hate, yet forgets it is the home that helped form who he becomes; the safe, stable, culture catalyst that provides his geographic launching pad for finding The Real.
Every musical number in Passing Strange is either an examination of the society Youth comes from, a window into where his head is at in a particular moment, an internalized exploration of his desires, hopes and frustrations, or a glimpse at the wisdom he is slowly picking up about the secret of The Real.