Passing Strange: Youth's intense journey to find The Real
MIKE McGEE | 3/19/2017, 7:30 a.m.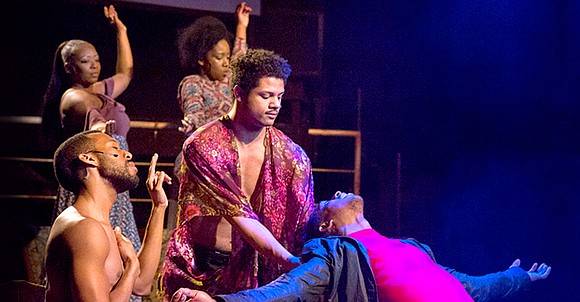 No song in the show is a gratuitous number dropped in strictly for entertainment, but that is not to suggest the songs are not entertaining. Scott does a tremendous job as a narrator beyond time and place, a surrogate for the mature and more grounded Youth and omnipotent showman in the style of Ben Vereen's Leading Player role in Broadway's Pippin and Taye Diggs as the bandleader in the film Chicago.
While The Baptist Fashion Show number during the Act I church sequence gleefully explores the fastidious posturing that many bring to the pews on Sunday morning rather than their faith, Sole Brother, the first song churned out by Youth's garage band The Scaryotypes, is not only absolutely dead on in capturing the anger and frustration of those outside the norm (or, in Youth's case, those outside the norm of those traditionally viewed as outside the norm) but also replicates the sound of the early Los Angeles punk scene with amazing accuracy.
The piece called Identity is part song, part performance art, and takes a silly, stereotypical stab at European avant-garde musical poetry, but it does it in such a way that it draws laughs and eye rolls, yet provokes thought at the race-based marginalization it touches upon.
At one point, leftist guerrilla artist Desi (Robinson) calls out Youth, informing him that while he may be a young African American in a nation that has been unkind to those like him, he cannot claim to know a life of difficulty, trying to get by, since he has come from a community so representative of success that his true hardship was boredom and a notable lack of significant challenges. The abrupt reality check sets up another weighty number that still manages to generate a sense of festiveness. The Black One suggests that African Americans living comfortable lives that co-opt the actual struggles of other African Americans as a way of developing artistic street cred is an alternative form of Blackface minstralism.
Ultimately, on a trip to Los Angeles – akin to a prodigal son's return – Youth does find the answer to what The Real truly is. Its meaning is only discovered through the tempering of naivete by growth, gain and loss, but his personal road to Damascus as a musical adventure presents truths that are universal to those who have grappled with forging their own identity amid a larger community. There are ideas that directly relate to what it means to be Black in America, but Stew and Rodewald also created a show that points out plainly everyone has to grow up in order to move up, harkening to the sacrifices and costs that the rarely-smooth transition demands.
Passing Strange is directed by Vickie Washington, with musical direction by Pam Holcomb-McLain and choreography by Jamie Thompson. The show will run at Theatre Three on Routh St. in The Quadrangle until March 26.