Alzheimer's Association offers online tools to empower people with dementia
CHICAGO (PRNewswire-USNewswire) | 3/27/2017, 8:03 a.m.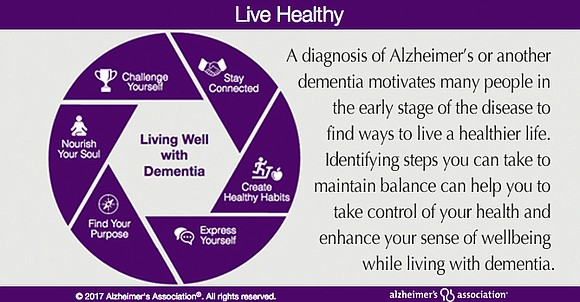 CHICAGO (PRNewswire-USNewswire) – The Alzheimer's Association, the leading voluntary health organization in Alzheimer's care, support and research, announced March 16 new online resources to help those in the early stage of Alzheimer's disease or other dementias to live well. The Association's new "LiveWell" resources offer interactive tools, including video insights from those living with the disease, to help users navigate the personal and emotional challenges that accompany an Alzheimer's diagnosis.
Currently, there are an estimated 5.5 million Americans living with Alzheimer's. Following diagnosis, it is not uncommon for individuals to feel disconnected, isolated or abandoned by others. Denial and fear of what will happen as the disease progresses can prevent many individuals from facing their diagnosis. As a result, there is often a delay in planning for the future and accessing potential treatments, and individuals may miss out on resources and support services that can help them live a positive and fulfilling life in the early stage.
"LiveWell resources and activities help those living in the early stage confront disease-related challenges by providing personal insights and strategies on how to live a quality life with dementia for as long as possible," said Monica Moreno, director of Alzheimer's Association early-stage initiatives. "We hope that by hearing from others living with the disease, users will begin to embrace the notion that there is life after a diagnosis and use the LiveWell tools to gain a sense of control over their lives."
The series features five distinct resources addressing issues relevant to the early-stage experience. Several include interactive activities that allow users to enter customized responses and generate a personalized summary detailing the steps they can take to live well. Each activity was created with input from people living in the early stage of dementia.
"These resources address important issues that can help individuals living in the early stage of the disease identify what's important and how they can move forward," Moreno said. "We encourage individuals living with the disease to use these resources to begin conversations with their care partners about how they can help them to live as well as possible for as long as possible. Engaging in these materials together encourages conversation and can provide a common direction in a life that inevitably changes after a diagnosis."
LiveWell resources:
Life After Diagnosis
The adjustment to a "new normal" after the diagnosis of Alzheimer's or another dementia is often a period with difficult emotions and uncertainty about the future. This module contains video reflection from individuals living in the early stage who recount the emotions they experienced after receiving their diagnosis and the process they went through to accept it.
You Are More Than Your Diagnosis
A diagnosis and the accompanying losses may impact how an individual sees themselves. This module contains an activity that encourages individuals living in the early stage of dementia to explore unique aspects of their identity. A personalized word cloud is generated from their responses with "Living with dementia" appearing alongside customized entries to demonstrate that the individual is not defined by their diagnosis. Individuals can download and share the image of the word cloud.