Effects of the exposure to violence on youth
GLENN ELLIS | 3/27/2017, 8:06 a.m.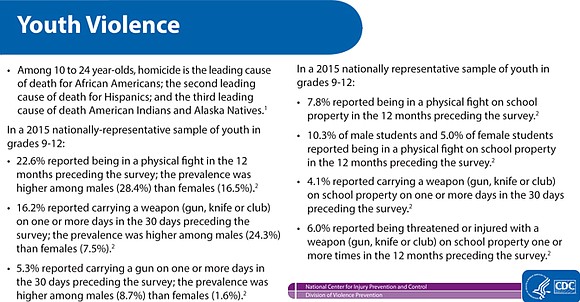 A growing number of programs treat post-traumatic stress disorder (PTSD) in war veterans. But far fewer treat urban youths, who suffer from the PTSD that comes with their ZIP code. And this kind of PTSD may be affecting even more young people than we think. A research study at Grady hospital in Atlanta found that at least half knew someone who had been murdered. Some two-thirds said they had been victims of a violent assault. A third had been sexually assaulted. This wide range of trauma experience meant that 32 percent of this population suffered PTSD symptoms.
This concept that "deteriorated" neighborhoods have an impact on one's mental health is not new. At least 70 years ago, Chicago school researchers Robert E.L. Faris and H. Warren Dunham went through 30,000 psychiatric hospital admission records. They found high rates of substance abuse and even schizophrenia in these neighborhoods. Later studies found that high rates of depression were also common.
Critics of youth violence cry for an end to Black on Black crime, demanding that young people respect each other's lives. But how many of us are respecting their lives by allowing them to be born and grow up in a society that condones the levels of violence in every form of media?
What is a child supposed to think when we glorify movie stars who portray award-winning performances in the most violent films and television programs? When the news is saturated with the most heart-wrenching and often gory news stories? Do you think they ignore it, and are not affected?
Someone said to me last week, "While we are watching our children, our children are watching us."
Remember, I'm not a doctor. I just sound like one.
Take good care of yourself and live the best life possible!
Disclaimer: This column is for informational purposes only. If you have a medical condition or concern, please seek professional care from your doctor or other health professional. Glenn Ellis, is a Health Advocacy Communications Specialist and is available through http://www.glennellis.com.