Women's History Month: A closer look at Mary McLeod Bethune
DENISHA McKNIGHT | 3/27/2017, 8:20 a.m.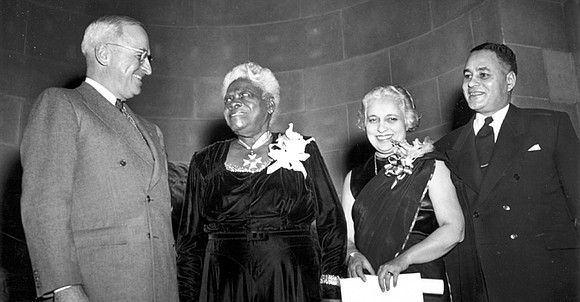 The Dallas Examiner
Mary McLeod Bethune was a legendary African American female educator.
The historical scholar was born Mary Jane McLeod, the 15th out of 17 children born to former slaves in South Carolina. As a young girl, she would join her mother on her laundry delivery route and stay in White children's nurseries.
Like most children, she was very amused with the White children's toys. But once, as she was looking at one of their books, a little White girl snatched it from her and yelled, "Put that down. You can't read!" Hurt and appalled by the comment, McLeod shifted her passion to literacy. She began thinking that the only difference between Black people and White people was the ability to read and write and was determined to teach the skill to as many Black children as possible.
At a young age, she was a field worker along with all of her family members, picking 250 pounds of cotton per day. It wasn't until she was 9 years old that McLeod was able to attend segregated missionary schools.
Showcasing her extreme dedication, the young apprentice walked five miles to and from school and did her homework by candlelight. She would also teach her parents and her siblings the things she learned in school during their free time, which signified her start in an extensive career in education.
This new educational opportunity came to a brief halt; after a mule died and money became scarce, she was forced to return to working in the field.

Desperately needing financial help to get back into school, she received a scholarship from a Denver dressmaker, allowing her to continue her studies at the Scotia Seminary for Girls in Concord, North Carolina.
After graduating in 1894, McLeod wanted to become a Christian missionary in Africa, but ultimately decided to attend Moody Bible Institute in Chicago when offered a scholarship.
Following her college graduation, she rooted her teaching legacy in the South. McLeod taught at Haines Institute in Augusta, Georgia, and at Kendall Institute in Sumpter, South Carolina, where she met her husband – a fellow teacher – Albertus Bethune in 1898.
Her marriage didn't last long. In the early 1900s, she separated from her husband and moved to Florida with her son. Juggling being a single mother and work, Bethune was unable to return to her passion for a year.
In 1904, hundreds of African Americans migrated to Florida for work after the construction of the Florida East Coast Railroad. The illustrious scholar saw this an opportunity to improve the educational lifestyle of young African Americans.
That same year, Bethune rented a four-room cottage in Daytona Beach, Florida, to create an all-girl African American school, known as the Daytona Normal and Industrial Institute for Girls, with less than $2.
Initially, the school started with five students and struggled to remain open. With very little funds and resources, Bethune battled to maintain her dream through contributions from the community and selling pies and ice cream.