Raleigh students want school named for integration fighters
MADISON ISZLER | 5/1/2017, 11:17 a.m.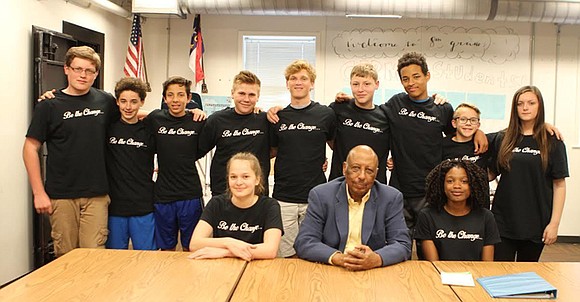 But Holt Jr. worries that his family's efforts will be forgotten among the experiences of other civil rights pioneers, which has inspired him to share his family's story and seek further recognition.
William "Bill" Campbell, who went on to serve as mayor of Atlanta, became the first Black child to integrate Raleigh schools. His parents enrolled him when he was 7 at the white Murphey School in 1960, four years after Holt Jr.'s parents applied to Daniels.
Holt Jr. views his parents as trailblazers for Campbell and those after him.
"His failed court cases did pave the way for the Campbells to ultimately break through the barrier," Fletcher said of Holt Jr.
In 1954, the Supreme Court ruled that the doctrine of "separate but equal" in schools was unconstitutional in the landmark case Brown v. Board of Education. The court told states to integrate their schools "with all deliberate speed" in 1955, but many Southern states moved slowly.
By the 1960s, school systems in some states had moved to a "freedom of choice" model that allowed Black families to request spots in White schools.
In 1971, a federal judge told Raleigh City Schools to develop an integration plan, resulting in the district adopting a plan to bus students for racial diversity. Five years later, the city and Wake County school systems merged.
Shannon Hardy, an eighth-grade teacher at Exploris, has invited Holt to speak at the school during her segment on civil rights for several years.
Twelve of Hardy's students decided to research and present their proposal to Wake after visiting the International Civil Rights Center and Museum in Greensboro last year and hearing Holt Jr.'s story.
"He was never properly recognized for his contributions to the integration of Wake County schools, and so we feel like this is a really important issue that needed to be addressed," said Zachary Boone, an eighth-grade Exploris student.
Holt Jr. said he is grateful for the students' efforts.
"It's an important part of Raleigh's history, and I think people need to know that there was a fight to get to the point we are now," he said. "Things just didn't happen, and somebody had to pay and make some sacrifices for this."