Forum addresses Black women, police brutality
MIKE McGEE | 5/8/2017, 11:12 a.m.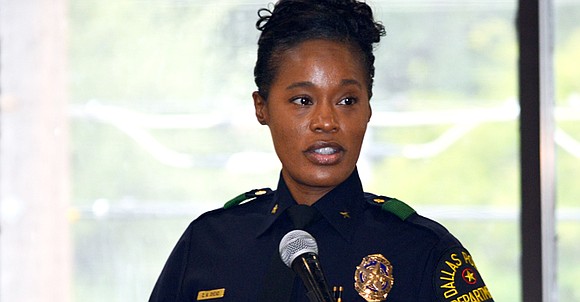 The Dallas Examiner
Deputy Chief Catrina Shead stood facing a small luncheon audience April 22 inside the headquarters of The Black Police Association of Greater Dallas. Yet just as her feet were planted singularly in Oak Cliff, the officer also thoughtfully, confidently, linked three different worlds.
The public forum focused on police brutality and Black women, areas that the Black, female, DPD officer could speak on from experience. The event was organized by Dr. Sheron Patterson, herself the daughter of a Black officer, to create understanding between police and the community in the wake of viral videos that depict how law enforcement dealt with Sandra Bland in Prairie View, Dajerria Becton in McKinney and, most recently, Jacqueline Craig in Fort Worth.
Shead spoke about her more than 22 years on the force as well as her son and daughter and their potential careers in law enforcement. She also spoke about the complex, sometimes violent relationship between peace officers and African American female civilians.
"The thing that I would like for people to know is that a lot of things are not said that need to be said as it relates to the police department's response, as it relates to working with the community," she offered. "A lot of times we don't get the chance to openly say 'I was Black way before I was blue.'"
Her ethnic identity takes precedence to her more so than what she does as a profession, just as it does for many women of color, the deputy chief acknowledged.
"We all were raised by, probably, a Black woman – probably in a not-so-affluent neighborhood. Probably, we saw White police officers come through, good or bad. We had the same perspectives on police departments, but we took a chance and we took a stand," she declared in solidarity with those like her who chose to pin on a badge. "We had the courage to join the police department to try to effect a change."
Patterson wants to effect change, too. As a faith leader in the community, the doctor noted that, as the result of police brutality cases against African American males, much is often made about private discussions regarding how Black boys should act when approached by an officer.
Black girls are not getting the same lessons, cautioned Carmen White of the District Attorney's Office.
"What I did recognize when I was asked to come here, was this was a topic that needed to be discussed, because plenty of us are having conversations with our young Black men, but we're not talking to our girls. There's a lot about men and the police, and, sadly, men get beat up all the time; that's just a sad fact," Patterson conceded. "But when women started getting beat up, that's when my antenna went all the way up and [I] said, 'We've got to come talk about this.'"
The doctor took a moment to cite U.S.A. Today, which reported "… police incidents involving women of color occur at a disproportionately high level compared with media coverage."