Forum addresses Black women, police brutality
MIKE McGEE | 5/8/2017, 11:12 a.m.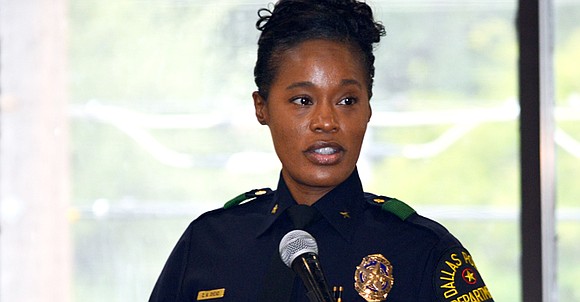 "That is inherent, but the media just won't talk about it. More attention tends to be paid when victims of police brutality are men," she said.
The community leader expressed her feelings from a place of contrast – how police abuse videos germinate fear and bitterness within viewers – but also considered the difficulty that came with being an officer.
"As the daughter of a policeman, I have both Black and blue running in my veins, and the blue in me knows about the sacrifice from the officers. The blue in me knows about the dedication of the officers to protect and serve, even when you're getting cussed out and spit on. The blue in me knows about the dangers that police officers face and the frustrations that some officers feel when they see Black women thrown around," Patterson said.
She underscored that the responsibility to stop police brutality should not simply be forced upon the potential victims of such abuses.
"So I believe that police have to be part of the solution, and their voices are very important, as much as ours," she explained. "And that's why I wanted them to be here today in the audience, mixed in with us, and not sitting up here on a panel where there's separation."
A similar sentiment moved Shead to attend the event.
"Some of the things that have happened, we're always asking questions," she said of Black officers. "We don't like what happened in Fort Worth. We are not pleased by that."
Shead discussed the high-profile video in which a mother – who had called the police after her son was allegedly assaulted by a neighbor – was later wrestled to the ground and arrested along with her daughter.
"That lady was our mother trying to stand up for her son," the deputy chief decreed. "You know one thing you don't do to a Black woman is mess with her son. We could all see ourselves in that place."
She also drew some wry laughs from the crowd when she admitted that she had never met the Fort Worth police chief, who is Black, but hoped to.
"Because as a Black woman I would love to ask him some questions."
She pointed out that police commanders had to have high standards because the rank and file officers on the streets represented the future of the department. As such, they would emulate the leadership model they witnessed as they came up.
"The impact of a decision that was made in Fort Worth has impacted us in Dallas. It hurts my heart to see a woman be done that way; it very well could have been me," she voiced as the audience murmured in general agreement. "If I'm out of uniform in Forney, Texas, it could happen to me, and I realize that."
She praised the forum organizer for offering a place to address such issues.
"This is a good start," Shead insisted. "Often times in the Black community we have to watch things happen, never have a conversation or dialogue … and I can stand here in uniform, and I can stand here and be Black, and say those things were wrong. And I can stand here and say we, as a law enforcement community, we have apologize for that."