AT&T workers protest labor contracts
MIKE McGEE | 5/8/2017, 11:17 a.m.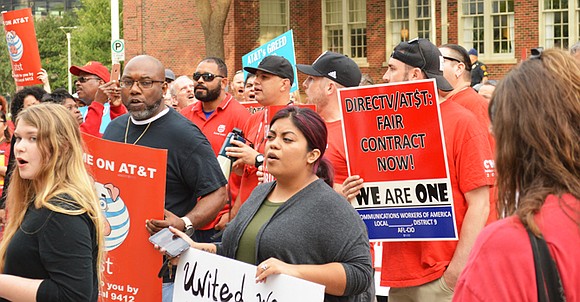 The Dallas Examiner
Chants of "No contract, no peace," and verbal promises of a strike mingled with the sounds of the downtown streets April 28 as AT&T employees protested outside the company's annual stockholders meeting.
The demonstration that took place in front of the Dallas City Performance Hall highlighted not only a contract dispute that has left some employees without a contract for more than a year but also underscored workers' unhappiness with the number of jobs the company has outsourced overseas. More than 38,000 workers are involved in efforts to negotiate for a long-term contract with the company, according to a spokesperson for the group.
Vera Alatorre, president of the Communications Workers of America Local 9505 and collections representative for the company, described some of the details that employees were rallying against.
"They will not give us benefits [or] raise our benefits, raise the retiree's benefits. They also want to put a cap on our pensions, so we're here to stand united and keep everything going for us," the 20-year employee remarked.
The conflict over the contract stemmed from what Alatorre said was the company's unwillingness to negotiate.
"They pushed everything off of the table. They don't want to bargain with us, you know; we're having a hard time bargaining with AT&T," she said, commenting that the company was instead interested in buying other companies such as HBO and Time Warner. "And yet, they are refusing to bargain with us … not even to make a little tiny budge on our contract, so, they're having a really hard time doing that."
Another 20-year employee, Earnest Tilley, believed the contract impasse could impact those who most need steady employment. When he considered the number of women and minority employees the company staffed, "I would say probably a good 60 to 70 percent," was his estimate. "It's a big, big percentage."
John Stankey, CEO of AT&T Entertainment Group, was approached to share his thoughts on the protest as he spoke to and posed for photos with the picketers; however, he declined. Instead, the company provided its AT&T Labor Relations Fact Sheet, which states that the company has hired almost 20,000 people into union-represented jobs in the U.S. in 2016 and is the only major wireless company with a unionized workforce.
"We've reached fair agreements with 29 bargaining units since 2015, covering over 128,000 employees," the sheet stated. "Over 20,000 of our employees here in the Southwest Region approved earlier this month an early agreement that includes a commitment to hire 3,000 people in the region, sourced from work that's currently performed mostly offshore.
"We also announced another agreement earlier this week, including an announcement that we'll be hiring 1,000 people and opening a new call center in Chicago."
However, Alatorre contends such statements contradict one of the issues the employees have.
"[Because] AT&T is known for outsourcing and me, as president, we're called 'surplus,'" which she indicated meant her department could be leaving the stateside confines of the company, "because everything went outsourced, outside to the Philippines. They're going to the Philippines, Mexico, Colombia … everywhere else but the United States."