AT&T workers protest labor contracts
MIKE McGEE | 5/8/2017, 11:17 a.m.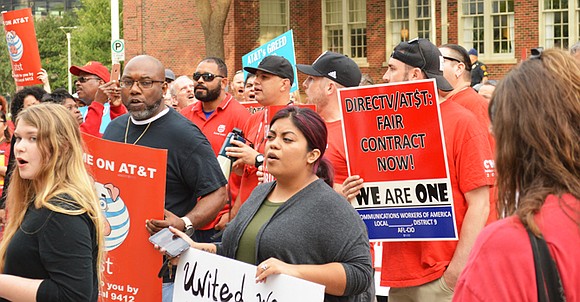 She further maintained that, should such outsourcing continue, the chance of data theft would increase.
"They're known to breach information," Alatorre said about the company. "So they've been fined twice already for breached information from our customers. And they're breaching information, such as Social Security [numbers], credit cards, everything. And they still don't understand that the point of being here in the states is we don't do that. We don't write anything down. Nothing; when you write anything down we get into disciplinary action."
Alatorre also affirmed that she has seen her department go from 434 representatives in its Pacific Bell era to 64 representatives through the past two decades.
The fact sheet ended stating that no Texas or Southwest Region contracts were currently involved in the bargaining, which was also a spot of contention for the Alatorre. Moreover, she said the jobs being outsourced could be redirected to areas in the U.S.
Alatorre emphasized she would like to see more jobs in California, but not necessarily contracting jobs, but more so union jobs. Contractors are not direct employees of the company, while union workers have benefits such as medical insurance and negotiating power – for wages, working conditions and other issues.
"It's time to stop playing games," Tilley commented. "We made too much money for this company for them to be delaying getting a contract ratified. Enough is enough."
He asserted that local employees have had trouble advancing within the company due indirectly to the outsourcing.
"Even the ones that are currently employed, the possibility of moving across the company to another job that's more fitting to them has been a challenge to folks because of the surplus," he said.
When a department receives the designation of surplus, that department gets precedence to new job opportunities within the company.
"A lot of times the jobs they're offering aren't jobs [employees] really want. In some cases, they're not skilled in their position to get those jobs, so it's been a hindrance on both sides," Tilley stated.
The purpose of the public protest was to gain attention, he added.
Protest organizers also said that, as customers are still experiencing low performing high speed internet service and a recent episode of 911 outages on AT&T mobile phones, the company has continued to bring in over $1 billion a month and overpay executives.
"Public opinion matters," he said. "And we just ask … we need everyone's support to note AT&T is a multibillion dollar company. The CEO alone made $24 million last year. That's enough to care for two call centers' health care coverage, which every time it's contract time they want to increase us paying more for health care. Just that [money] alone would care for that.
"So, come on now, it's not rocket science. It's mainly corporate greed."
He said that he has not seen such action in his time with the company.
"It hasn't been this bad. Well, I also know it's been an issue," he said in regard to past negotiations. "But it's gotten real bad lately."
This was the community's first demonstration directed at AT&T, yet Tilley mentioned that such momentum might grow.
"Absolutely, absolutely" he declared, then clarified, "Well, I hope, but my gut says it will."