EARTHACK: Innovative tech-driven solutions by young minds could improve the world
MIKE McGEE | 5/15/2017, 12:49 a.m. | Updated on 5/17/2017, 6:16 p.m.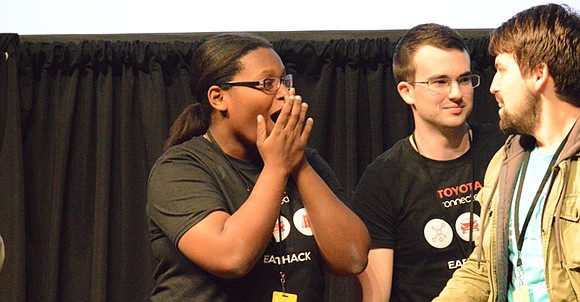 The Dallas Examiner
EARTHACK is an event designed to inspire young minds to use technology to help solve real world issues with innovative solutions that can be used locally and on a global scale.
Up to 1,200 high school and college students form development teams during the yearly contest, held during the Earth Day Texas event at Fair Park. The diverse teams are given 36 hours to complete a challenge presented to them that will address real-life problems through a technology-based solution, according to Ryan A. Brown, CEO of EDTx.
"But what's so neat about it is all the solutions are going to be with a positive environmental impact in mind," Brown said.
This year, in partnership with HackDFW, participants' skills were tested by a challenge to create an application for cellphones that would cleanly, efficiently benefit humanity – and especially encourage or promote responsibility towards the environment.
Seven finalist teams were chosen to outline the apps they developed on-site that weekend.
"I thought this was a great experience considering it's my first time coming to EARTHACK, or a hackathon in general," said University of North Texas student Chelsea Grear. "And I just have a bunch of wonderful teammates who actually helped me along the way get over some learning curves."
Grear was part of Team RIDR, the group that took home first place with their mobile app that pairs with Toyota to get their telemetry data and State Farm to gather their reward points.
"RIDR is a ridesharing application, and it's to help you get from one place to another, save money and reduce your carbon footprint," said co-creator Chad Leito.
Once a user logs in, the app queries the user about musical tastes, hobbies and regular travel routes. RIDR will then line up people in the area with like interests who take similar routes at similar times. The app splits the cost of the trip between riders; it also tracks the money being saved by each user and indicates how much less carbon dioxide is being released into the atmosphere simply by carpooling.
RIDR was not only awarded the grand prize, but they also won separate corporate prizes from State Farm and Toyota Connected.
Coming in second place, Team Symptly Aware also won a State Farm sponsor prize. The Richardson High School group created an app that could track upswings in the number of local cases of disease by having users enter their ZIP code and symptoms. It would not only be a way for local hospitals to pinpoint the beginning of possible outbreaks and prepare in advance for proper storage of medicine, but the information could also potentially be fed to schools and the CDC – all while keeping individual privacy safe, since ZIP codes would be the only identifying data entered. Users would also be able to employ Google Maps to see what might be developing in their neighborhoods.
From a commercial angle, a subscribing pharmaceutical company or clinic could focus advertising in such regions for treatments of the ailments reported.